February 2019 Monthly Theme: African American History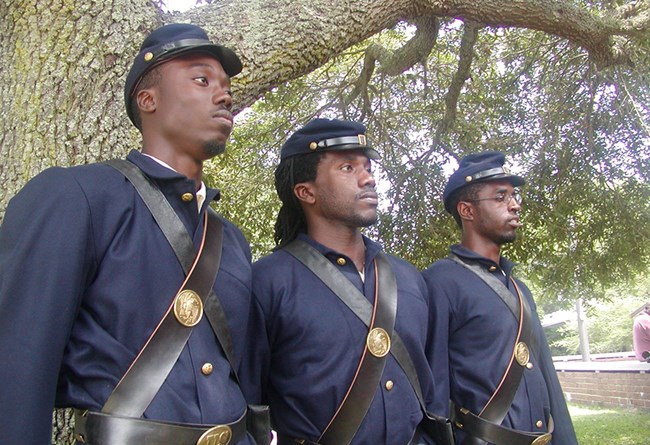 Preserved within parks and in neighborhoods throughout the country through NPS programs, African American history is an essential part of the American narrative. What stories can we share about the African American experience and contributions to our country?

As the nation celebrates the achievements, contributions, and historical journeys of African Americans, we can highlight the history and cultural heritage shared within our parks and in communities through the work of our programs and partners.

For parks, NPS programs, and our partners, here are some thoughts to get your ideas going!
The theme for African American History Month is set each year by the Association for the Study of African American Life and History (ASALH), an NPS partner. The 2019 theme is "400 Years of Perseverance" to recognize the resilience and contributions of African Americans since the arrival of the first enslaved Africans in mainland North America in 1619.
Combine themes this month by telling the stories of African American innovators and engineers for National Innovation Day and National Engineers Week (see "Other Themes & Activities" below).
Showcase objects or artifacts in your partner park's museum collection important to the African American experience.
Highlight the work that you and your partner park do in telling the story and sharing the experience of African American heritage.
Social Media
Social media hashtags include #AfricanAmericanHeritageMonth and #TellingAmericanStories. Don't forget to use #FindYourPark/#EncuentratuParque so that the NPS national accounts and the National Park Foundation can easily find and possibly share your posts!

Feel free to link back to these pages on NPS.gov:
Other February Themes & Activities
February 4: Birthday of Rosa Parks
February 8: National Boy Scouts Day

#NationalBoyScoutsDay, #ScoutingNPS

February 11: International Day of Women & Girls in Science
February 14: Frederick Douglass' Birthday
February 15–18: Great Backyard Bird Count
February 16: Innovation Day
February 17–23: Engineers Week
February 18: Washington's Birthday / Presidents' Day
February 20: Birthday of Ansel Adams
February 25–March 1: National Invasive Species Week
February 26: Digital Learning Day
Last updated: February 4, 2019