December 2018 Monthly Theme: Appreciating Our Partners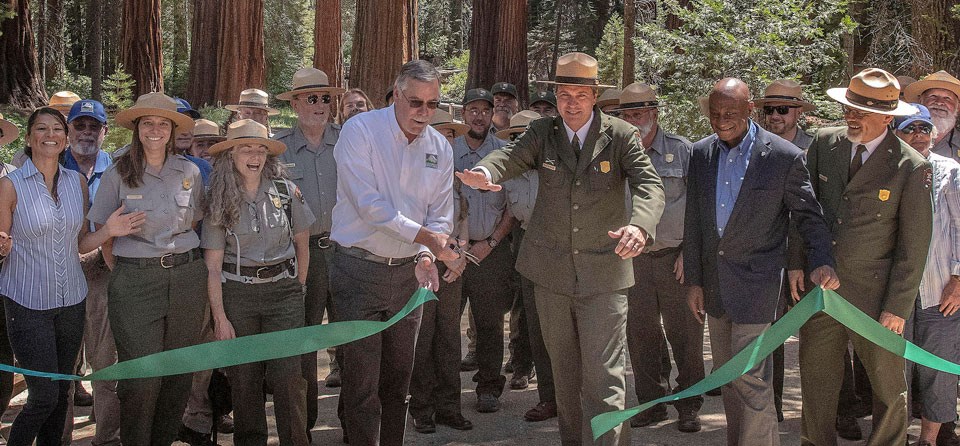 'Tis the season of giving and sharing. The National Park Service is grateful for the contributions of our many partners that are invaluable to the success of parks and programs. As we look to the approaching new year, our monthly theme for December invites the national parks community to thank our partners for this year's efforts while looking ahead to what we hope to accomplish together in 2019.

For parks, NPS programs, and our partners, here are some thoughts to get your ideas going!
Give a shout out to your partners. Maybe this calls for a top 10 list of accomplishments achieved together this year or a look ahead to what's underway and soon to be a success in your partnership.
Take the "Finish My Sentence Challenge"! You've been working with your partners for a long time--so long in fact that you've begun to finish each other's sentences! Use social media with your partners and tag each other in finishing each other's tweets and posts.
What's been repaired or revitalized? Did a partner provide a margin of excellence for your park's work? Did they help address any deferred maintenance? Consider sharing your story by writing an article, sharing before and after photos, and posting on social media all about it.
Have you answered pressing questions, worked on a nomination for the National Register, or collected research data together? Many parks and programs have exciting work underway with a variety of partners. Here's an opportunity to highlight the great work you're doing together!
Reveal the "partnerships" found among your park or program's natural resources. Maybe a special pollinator is required by a local plant, or perhaps a plant is a key food source for a local animal?
Unpack the partnerships found among your park or program's cultural and historical resources. Did a great duo, for example Wilbur and Orville Wright, or other partnering contribute to your park or program's stories?
For the bonus round of revealing partnerships, what's underway at your park or program that has pulled together a variety of disciplines for success? Check out the article on Partnerships between Resources and Fire Benefit Cultural Landscapes at Parashant National Monument for inspiration.
Social Media
Some ideas for social media posts are below. Feel free to be creative, and consider connecting with the additional December themes and activities below.

Hashtags:
#NPSThanks, #ThankYouForBeingAFriend #TogetherWe'reBetter
Don't forget to use #FindYourPark/#EncuentratuParque so that the NPS national accounts and the National Park Foundation can easily find and possibly share your posts!

Possible posts could include:
Videos about park or program partnerships
An invitation for dialogue sparked by a partnership quote
Before and after photos and how partners played role in the project
Thank you styled - acknowledging the work of and success with partners
Pictures of partnerships in action, from plants and animals to interagency
A link to nps.gov partner-related articles and pages
A series where you showcase your partnership by "finishing each other's sentences"

These ideas are just a start. Think about how the National Park Service showcases partners in your park or program.
Other December Themes & Activities
December 1-31: Supporting the Parks (#FindYourPark, #ParkSupport)
December 1-31: NOAA Winter Weather Safety Campaign
December 3: (UN) International Day of Persons with Disabilities
December 5: (UN) World Soil Day
December 7: National Pearl Harbor Remembrance Day
December 11: (UN) International Mountain Day
December 17: Wright Brothers Day
December 18: National Park Foundation Birthday
December 21: First Day of Winter
Last updated: October 29, 2018