April 2019 Monthly Theme: We're On A Mission!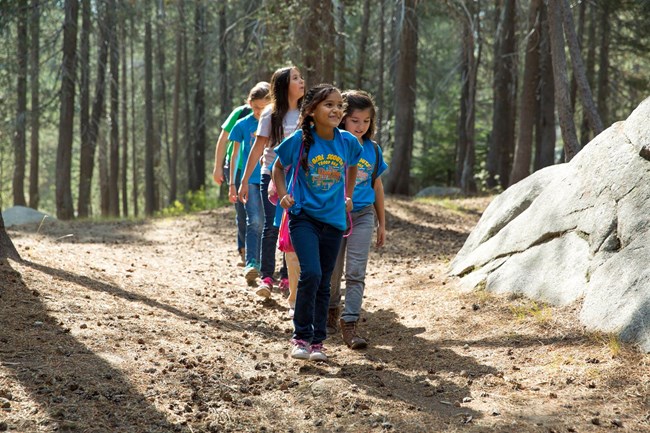 As we prepare for and celebrate National Park Week from April 20 through 28, the Servicewide Theme for the month examines how the NPS mission helps preserve the nation's natural and cultural heritage.

It's mission possible as the National Park Service continues its trek through its second century. The NPS, along with many friends and partners, will highlight the inspirational, recreational, cultural, and historical features of the National Park Service and encourage everyone to #FindYourPark.






Following are some suggestions for parks, programs, and partners:
Find connections to the individual theme days of National Park Week.
Share stories and examples of how the park/program meets the mission of the National Park Service from visitor programs, recreational opportunities, maintenance, health and safety, and more. What are the park or program priorities or special projects this year?
Post a throwback image related to the park/program and why it was created.
Introduce your employees and how they play an important role in the National Park Service to showcase the variety of careers within our agency.
Highlight current volunteers or volunteer projects and invite people to lend a hand with upcoming opportunities.
Give a shout out to your partners and explain ways that you work together to meet the mission.
Encourage the next generation of stewards to get involved through the youth programs and kids activities in parks/programs.
Social Media
Social media hashtags include #ParkWeek, #NPSOnAMIssion, #FindYourPark, #EncuentraTuParque.

Please link back to National Park Week and the subject sites for each day:
Join the National Park Week Twitter chat!
Hosted by the National Park Foundation, the National Park Service, and the Department of the Interior, a lively and engaging Twitter chat will get the National Park Week party started! A few days prior to National Park Week, park lovers will unite on Twitter to share their favorite memories, tips, and stories about national parks. All are welcome to join the conversation on April 18, 2019, at 1 p.m. ET by following the hashtags #FindYourPark / #EncuentraTuParque, as well as sharing, retweeting and reading along!
Other April Themes & Activities
March 31–April 7: International Dark Skies Week
April 1–30: Keep America Beautiful Month
#KeepAmericaBeautiful, #GetInvolved
April 1–7: National Public Health Week
#PublicHealth, #VisitorSafety
April 6: Anniversary of US Entry into World War I
April 7-13: National Volunteer Week
April 13: Citizen Science Day
April 17: Bat Appreciation Day
#BatAppreciation, #BatsBatsBats
April 18: World Heritage Day
April 23: World Book Day
April 20–28: National Park Week
April 20: National Junior Ranger Day
#JuniorRangerDay, #ExploreLearnProtect
April 22: Earth Day
April 29–May 3: Air Quality Awareness Week
April 30: International Jazz Day
#InternationalJazzDay, #MusicHeritage
Last updated: April 8, 2019