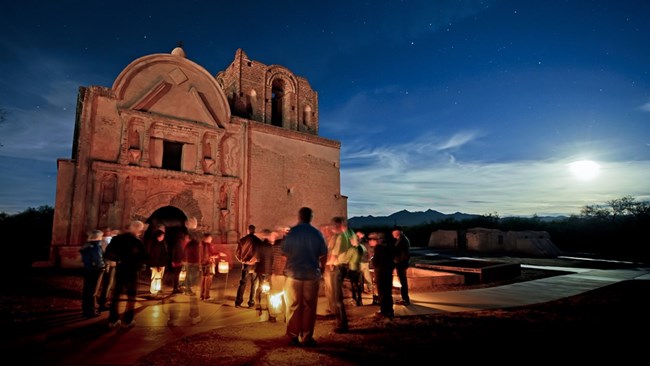 As we celebrate National Park Week and International Dark Sky Week this month, let's look at what happens in park skies when the sun goes down. What goes on in the dark?
For the April monthly message, we're exploring the concept of nighttime—from the study of the stars, to life that is more active at night, to the way that humans have experienced night through the ages. The "Park Stars" theme for National Park Week (April 21–29) is a great tie-in for the month, too!

Not every park is open after dusk, so check with the park about operating hours and special programs and events.

For parks that are open late, nighttime visits offer fascinating experiences and also some unique challenges. Here are five tips for making a Park After Dark visit both fun and safe!!

Share your nighttime experiences through social media! The #FindYourPark secondary hashtags for April are #AfterDark and #StarrySkies.

For our park partners, there are lots of ways to engage with this theme!
Highlight an International Dark-Sky certified park!

Host a star party! Partner with a local astronomy club to help visitors explore the night sky. Can you spot the space station from your park?

Does your site have nocturnal mammals, flora, or fauna? What do panthers, mountain lions, bats, and others do after dark? How about bioluminescent activity like lightning bugs? Does your park have flowers that bloom at night?

Thinking about historic homes or buildings—what was it like for people in those places historically? Did they function by candlelight or fire after dark? What did ancient peoples, Native Americans, and explorers do when the sun went down? How about military stationed in frontier forts?

Host a sleep-in or night at the museum!

Does your park have a nautical history? Describe how sailors used traditional wayfaring or used the stars to navigate. How do we navigate the night?

How do our senses of touch, sight, smell, and sound, and taste help us in the dark and at night?

Host a nighttime tour by lantern or candlelight, like this one at Fort McHenry.

Can you host an all-night BioBlitz? Or a night recreational activity such as fishing, a full moon or night hike, or glow run. Or since it is always darkest before the dawn, hold a sunrise program.

Does your park have a campground and/or host campfire programs? Can you host a Camping 101?

Be sure to work with your park or program manager to share your events on NPS.gov!