Sinking Spring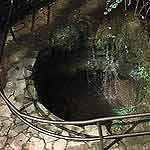 Sinking Spring,
located just below the hill on which Abraham Lincoln was born, was clearly identified in early land records. This water source was variably known as Sinking Spring, Rock Spring, and Cave Spring. However, early records generally refer to the landmark as Sinking Spring because the water dropped into a pit and disappeared into the earth. Thus, originated the name of the farm.
As a perennial source of water, the spring was probably a deciding factor in selecting the location for the cabin site. The Lincolns depended on this spring for their daily water supply and travelers often paused during their journey to partake of the refreshingly cool water. Abraham Lincoln probably tasted his first drink of water from this spring. The appearance of the spring has changed considerably since the Lincoln era. The area was modified during early years of park development. However, the natural rock formations along the back wall have been changed only by nature and continue to instill impressions of a homesteader's life.
Typical of Kentucky's karst topography and hydrologic systems, the spring is a significant natural resource. Its water drains through the subsurface and empties into a branch of the Nolin River a short distance from the park. Sinking Spring is a part of a network of springs and subsurface streams in and near the park. Because the spring's cave supports a variety of fragile cave biota, it is particularly sensitive to pollutants and encroachment. The National Park Service monitors those threats, which effect the cave and its environment.
To help preserve the resource, please do not throw coins or other objects into the spring.
Last updated: January 28, 2021