Read about the plant that killed Lincoln's mother...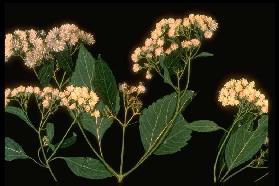 WHITE SNAKEROOT
The Plant that Killed Abraham Lincoln's Mother
The White Snakeroot is a shade-loving plant found throughout Kentucky, Indiana, Illinois, and Western Ohio. It grows in the rich, moist soil of woods, thickets, and woodland borders. In late summer, when the plant is in full bloom, it reaches a height of 18 to 48 inches and is laden with fluffy, snow-white flowers.
"Milk Sickness," by definition, is poisoning by milk from cows that have eaten the White Snakeroot plant. "Milk Sickness" usually develops when a person drinks milk from an affected cow. However, it can also occur if the meat of an affected cow is eaten.
The illness has been called puking fever, sick stomach, slows, and the trembles. Symptoms include loss of appetite, listlessness, weakness, vague pains, muscle stiffness, vomiting, abdominal discomfort, severe constipation, bad breath, and finally, coma. Often the disease is fatal.
In the fall of 1818, nearly two years after Thomas Lincoln had moved his family to the Little Pigeon Creek settlement in Southern Indiana, Abraham's mother became desperately ill after caring for some neighbors who were sick. Nancy Hanks Lincoln died of "Milk Sickness" about two weeks later on October 5, 1818.
"Milk Sickness" was most common in dry years when cattle wandered from poor pasturelands to wooded areas in search of food. As the pioneers cleared the woodlands, cattle were provided adequate pasture. As a result, incidence of the illness diminished.
The chances of contracting "Milk Sickness" today have been greatly reduced due to improved farming techniques and by techniques used in the modern dairy industry.
Nearly 200 articles pertaining to "Milk Sickness", most of them found in medical journals, can be found in the Library of the Surgeon General in Washington, D.C. Little was known about the mysterious illness until the 20the century.
Last updated: April 14, 2015