Junior Ranger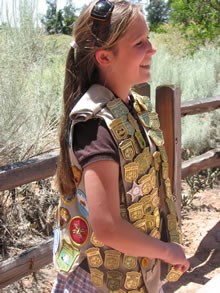 The Junior Ranger Program is a popular youth program designed by the National Park Service to promote exploring, learning, and protecting the park while having fun. This free program is designed for school age children between the ages of 6 and 12; however, no child will be denied an opportunity to participate in the program. The Junior Ranger booklet has several age relevant sections that must be attempted before the child will be awarded their badge and certificate.
Help is available from any park employee. In addition, parents and grandparents may provide assistance; however the child should be encouraged to complete the booklet on his/her own while visiting either unit of the park.
The program's objectives are to help children learn about Abraham Lincoln Birthplace NHS and the National Park Service in general, develop in the child an appreciation of our cultural and natural resources, and kindle in the child a desire to learn more about our heritage.
The child is only required to show an interest in the program and pick up a booklet at the Birthplace Visitor Center or the Boyhood Home: Knob Creek Farm. Program materials are free. The child should attempt to complete the pages within their age group and return the booklet to the staff person on duty to be checked and certified. Activities are designed to help the child explore and learn about the park while on site. The child will then receive their badge and certificate.
You may earn other Junior Ranger badges and/or patches whenever you visit other National Parks.
Last updated: April 14, 2015