Junior Ranger Booklet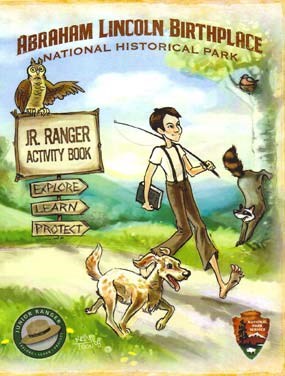 Hello future Junior Rangers! Click on the picture to start your journey to Explore, Learn and Protect Abraham Lincoln Birthplace National Historical Park.
Adobe Reader is required to download the Junior Ranger Booklet. For a free version of Adobe Reader click here.
Need help with some of the answers? Pictures of state maps, tools, wayside signs at the park and trees at Knob Creek are available.
Once you have completed the required activities in your Booklet bring it to the Park and receive you Junior Ranger Badge and Certificate. If you are not able to visit the park? Print your own copy of the certificate.
Congratulations! You are now a member of the National Park Service's Junior Rangers.
Last updated: February 22, 2019