Thomas Lincoln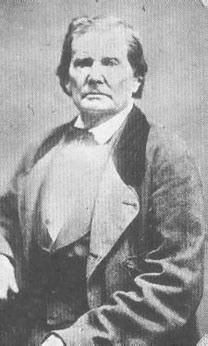 Thomas Lincoln was born on January 6, 1778, along Linville Creek in Rockingham County, Virginia, the fourth child of Abraham Lincoln and Bathsheba Herring Lincoln. In 1782, Thomas migrated with his parents to Kentucky, then a county of Virginia, settling with his parents and siblings on land east of present-day Louisville, Kentucky granted to his father by the state of Virginia for his service in the Revolutionary War. In May 1786, while helping his father and brothers Mordecai and Josiah prepare a field for spring planting, Thomas witnessed the death of his father at the hands of American Indians. At the age of eight, Thomas remained in the field with his father's body while his brothers went for help. Mordecai returned with his father's musket as the American Indians were approaching young Thomas. Aiming at a silver pendant on one of the American Indians, Mordecai fired the musket killing the American Indian, saving the life of his younger brother. As the oldest son, Mordecai inherited his father's entire estate and Josiah and Thomas were left to make their own way in the world.
Following the death of Abraham Lincoln, Bathsheba moved the family east to Nelson County (now Washington County), Kentucky where Thomas Lincoln grew up and learned the trade of a carpenter. Here he met and married a young woman named Nancy Hanks on June 12, 1806. Thomas and his new bride established their home on a farm Thomas owned along Mill Creek, about eight miles north of Elizabethtown, Kentucky. Soon Thomas and Nancy Hanks Lincoln moved to Elizabethtown where their first child, a daughter they named Sarah, was born on February 10, 1807.
In December 1808, Thomas Lincoln purchased a 300 acre farm known as the Sinking Spring Farm near Hodgen's Mill (present-day Hodgenville), Kentucky where a second child, a son named Abraham, was born on February 12, 1809. In 1811, a dispute over the title to the land drew Thomas Lincoln into a legal battle that continued until 1816. While ownership of the land was in question, the Hardin County Court ordered Thomas to vacate the land. Leasing 30 acres of land ten miles away along Knob Creek, Thomas and Nancy Hanks Lincoln established a new home. Thomas Lincoln worked the land at Knob Creek for the next five years while continuing his legal battle to regain the Sinking Spring Farm. In August 1816, Thomas lost his court battle for the Sinking Spring Farm and was soon served with a suit of eviction at Knob Creek as a dispute over ownership of that land erupted. In December 1816, Thomas Lincoln moved his family to Perry County (now part of Spencer County), Indiana where he had purchased land directly from the federal government.
In the early autumn of 1818, Nancy Hanks Lincoln contracted "milk sickness" and died from the illness on October 5. In late November 1819, Thomas Lincoln made the trip back to Elizabethtown, Kentucky to search for a wife. He proposed marriage to Sarah Bush Johnston, a widow with three children that he had known from his earlier Kentucky days. They were married on December 2. Following the marriage, Thomas brought his new wife and stepchildren to the Lincoln home in Indiana.
In March 1830, Thomas Lincoln migrated with his family to Logan County, Illinois. After an extremely harsh winter he considered moving the family back to Indiana, but stopped in Coles County, Illinois where he and his wife, Sarah, remained for the rest of their lives. Thomas Lincoln died on January 17, 1851. At the time of his death, Thomas Lincoln had not met his daughter-in-law, Mary Todd Lincoln, nor had he met any of his grandchildren. Abraham Lincoln, his son, did not attend his father's funeral.
Last updated: April 18, 2020