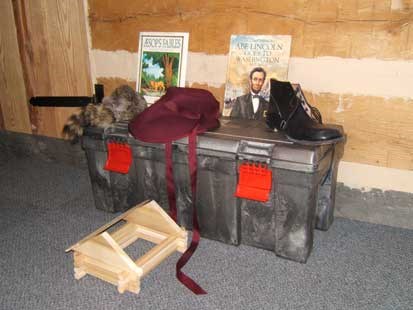 The trunks are designed so that teachers and students anywhere in the country can receive hands-on educational materials, with lesson plans, delivered to their door. When the school is finished, they repack the trunk and send it back to us. The only cost associated with "borrowing" a trunk is roundtrip postage at Library Rate ($40.00).
The traveling trunk provides educators with materials that will aid students when studying the life and times of Abraham Lincoln. These materials are provided by a grant from the National Park Foundation's Parks as Classrooms program. Materials include reproduction period items such as a writing slate, clay marbles, a log cabin model, clothing, and authentic recipes. Also included are photographs, a curriculum guide, audiovisual resources, and a narrative.
Travel Trunk Policies
Traveling Trunks can be reserved by calling the park and since there are a limited number of trunks we need to know the dates that you would like to receive a trunk as far in advance as possible. Traveling Trunks are distributed on a first come, first served basis. We loan the trunk for 1 week. If you need it longer than 1 week, please ask when you are requesting the trunk.


Trunks are shipped by US Mail (Library Rate). Shipping costs and time will vary depending on your location. You should allow up to two weeks for the trunk arrival.


Buy a Postal Money Order at your local post office for the shipping cost from us to you. Make the money order ($20.00) payable to Postmaster, Hodgenville, KY. We must receive your Postal Money Order at least 2 ½ weeks before your reservation date, if not your reservation could be canceled.


The borrower is responsible for paying shipping costs to receive and return the trunk to the park.


The trunk weighs 38 pounds, its dimensions are 35" long, 15" high, and 13" wide and has a pad lock.
For additional information and to reserve a Traveling Trunk for your class call the park at (270) 358-3137 or write to the following address: Abraham Lincoln Birthplace National Historical Park, C/O Traveling Trunk Coordinator, 2995 Lincoln Farm Road, Hodgenville, Kentucky 42748.

Schools located in Central Kentucky should ask about our living history program, "A Walk Through Lincoln's Life," which is an on-site educational program presented each September.