Traveling Trunk
Frontier Life of Abraham Lincoln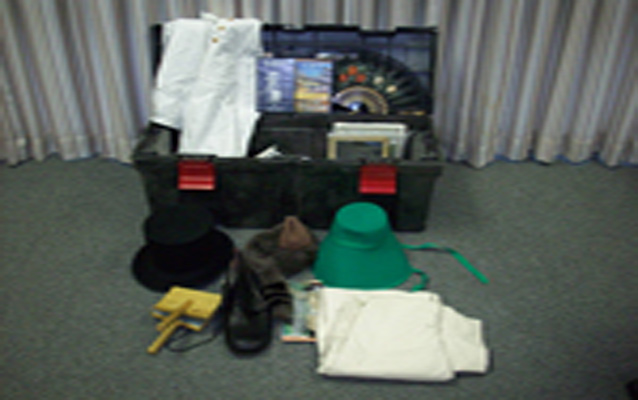 The Frontier Life of Abraham Lincoln traveling trunk contains reproduction men and women's period clothing, writing slate, clay marbles, photographs, parchment copies of 
Lincoln's Gettysburg Address, Farewell to Springfield Address, Second Inaugural 
Address, and the Emancipation Proclamation, DVDs of Lincoln: The Kentucky Years, At 
Home With Mr. Lincoln, and A Journey to Greatness, teacher's guides to Parks as Classrooms, Lincoln Boyhood Curriculum Guide, In Mr. Lincoln's Footsteps, and Mr. 
Lincoln's Incredible Journey.   
Borrowing Instructions
Traveling trunks can be reserved for a one week period by calling the park. Additional loan time may be included when the reservation of the trunk is made. As there are a limited number of trunks, it is recommended that reservations for a trunk be made as far in advance as possible. Traveling trunks are distributed on a first come, first served basis. 

The borrower is responsible for paying shipping cost to receive and return the trunk to the park. The trunk is shipped via United States Postal Service at the Library Rate, usually about $35.00 to $40.00.  To receive a trunk, purchase a Postal Money Order at your local
Post Office in the amount of $19.00, payable to Postmaster, Hodgenville, KY.  The 
Postal Money Order must be received by the park at least 2 1/2 weeks prior to the the 
reservation date.  If the Postal Money Order is not received, the reservation may be 
canceled.     
Details
Subject:

Education, Family Life, History, Language Arts, Pioneer America, Social Studies, Sociology, Westward Expansion

National/State Standards:

National Council for Social Studies: The Eight Standards

type:

Traveling Trunk
Last updated: April 14, 2015