Wildcat Canyon - Northgate Peaks Trails
This trail starts from Wildcat Trailhead and goes past the Northgate Peaks Trail junction offering views of the Northgate Peaks as it winds through the ponderosa forest. It opens into the meadows before coming onto the edge of Wildcat Canyon offering sweeping views down into the deep canyon. After crossing the canyon, the trail climbs slightly until connecting up with the West Rim trail. This trail is best in the late spring, summer and fall. The trail typically has deep snow in the winter that can remain until late spring. This area has no established campsites but does require a permit and is available on a walk-up basis.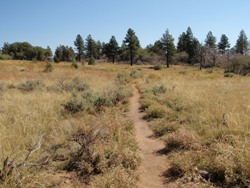 Wildcat Trailhead
The trail takes off from the Wildcat Trailhead and heads out into an open meadow with wide open views of the big sky.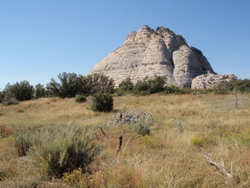 Pine Valley Peak
From the very beginning you are greeted with great views of the slickrock domes surrounding the area. This is the first peak to the south of the trail, minutes from the trailhead.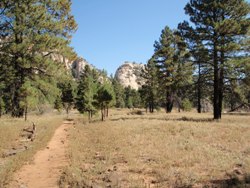 Ponderosa Pine Forest
The trail wanders through the ponderosa pine trees that offer great shade and wide spacing for a wide open feel.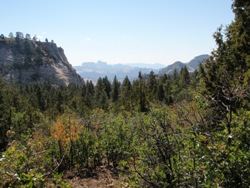 View to the south
Rounding the corner offers one of the first view of the sandstone maze to the south. This area is filled with dramatic cliffs and canyons.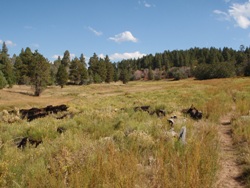 High meadow
Shortly before dropping down into Wildcat Canyon the trail passes through a beautiful but fragile meadow.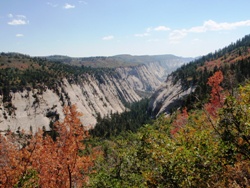 Wildcat Canyon
The trail slowly descends down the side of Wildcat Canyon where the view gets better with every step you take.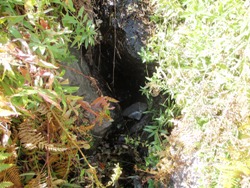 Wildcat Springs
Wildcat Springs is located beside the trail as you descend down toward the bottom of Wildcat Canyon. This spring is well marked and typically flows year round. Be sure and check springs conditions for an update.
Approximate Location
N 37°22.207'
W 113°02.299'
Elevation 7190 ft