Watchman Campground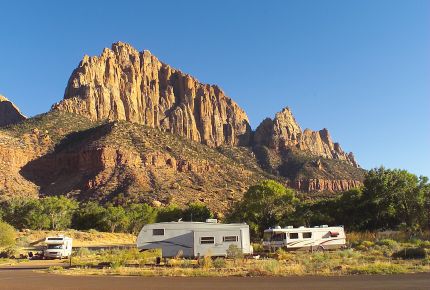 Watchman Campground is located ¼ mile from the South Entrance. Tent and electric campsites are available year-round and group campsites are available by reservation from March through early November. There are 162 regular sites, 2 wheelchair accessible sites and 7 group sites.

Western Tent Caterpillar
In April and May the campgrounds in Zion National Park are teeming with tent caterpillars. The western tent caterpillar is a native species of the western United States, southern Canada, and northern Mexico. Cottonwood trees seem to be the preferred host in Zion Canyon, but tent caterpillars may defoliate many species of broadleaf trees and shrubs. Western tent caterpillar populations are cyclical and reach outbreak densities every 8-10 years.

2013 Watchman Campground Closures for Tent Caterpillar Spraying.
Tuesday April 9, 2013: A and C Loops.
Wednesday April 10, 2013: B, D and E Loops.

Reservations
Reservations for campsites at Watchman Campground for camping from March 1, 2013 through December 1, 2013 may be made six months prior to your arrival date online at www.recreation.gov or by calling 877-444-6777.

Reservation Season Camping (March-November 2013)
A-Loop: Available by reservation March 8, 2013 through November 24, 2013.
B-Loop: Available by reservation March 1, 2013 through December 1, 2013.
C-Loop: Available by reservation March 1, 2013 through December 1, 2013.
D-Loop: Available by reservation March 8, 2013 through December 1, 2013.
Group Sites (E Loop): Group sites will be available March 8, 2013 through October 27, 2013.
F-Loop (Tent Only, Walk-to Sites): Available by reservation March 8, 2013 through October 27, 2013. It will be available on a walk-in basis from October 29, 2013 through November 30, 2013.

There are 6 group campsites that are limited to one site per affiliated group at a time with a seven day per stay limit. The sites can accommodate from 9 to 40 campers. The group campsites are tent only. No other types of camping equipment, including camper vans, pop-up campers, or cabover campers, are allowed in the group campsites. Cost is $3.00 per person, per night.

Campground Information
Generators are not permitted, but 95 campsites have electrical hookups. Reserve an electric campsite if you need power.

There are no full-hookup campsites; a dump station is available for campers.

Shaded/tree sites can only accommodate vehicles with maximum height of 13' (3.96m).

There are 69 campsites that are for tents only with combined vehicle length less than 19' (5.8 m).

There are 18 Tent Only, Walk-in campsites. These sites are a short walking distance from vehicle parking and are ideal for bicyclists.

Electric campsites are $18.00 per night

Riverside electric campsites are $20.00 per night.

Tent Only campsites are $16.00 per night.
Please note: Owners of an Interagency Senior or Access or a Golden Age or Access Pass receive a 50% discount on camping fees.
Watchman Campground Regulations and Map

NRRS Policies (reservation cancellation policy)

Back to the Campgrounds in Zion main page.
Did You Know?

The Zion National Park webcam shows the famous Temples and Towers of the Virgin as seen from park headquarters. More...