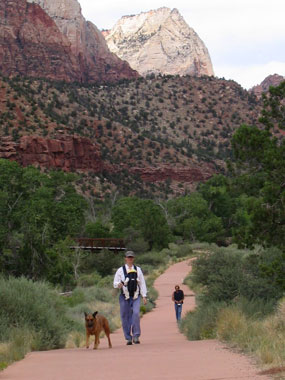 Owners bringing their pets to Zion National Park need to be aware of conditions and policies that will effect their visit. Please keep in mind the following guidelines;
Leashed pets may be walked on the Pa'rus Trail: however, pets are not permitted on any other trails, on shuttles, in public buildings, or in the wilderness. Pets must be under physical control on a leash less than six feet long at all times.

Properly restrained pets are allowed along public roads and parking areas (generally within 100 feet of the road surface), in the developed campgrounds and picnic areas, and on the grounds of the Zion Lodge.

Pets may be left unattended in developed campgrounds provided all other requirements of 36 CFR 2.15 (Code of Federal Regulations) are observed. Unattended pets observed making unreasonable noise will be considered prima facie evidence of failure by the owner to meet requirements of 36 CFR (a)

Leaving a pet unattended in a vehicle with environmental conditions that pose a health risk to the animal is prohibited. The interior temperature of a vehicle can quickly warm to dangerous levels. Avoid leaving animals in vehicles.

No pets, other than service animals, are allowed on the park transportation shuttle buses.

Pet owners not adhering to regulations may be cited (minimum fine is $75). 36 CFR 2.15 (Code of Federal Regulations) provides more details concerning pets within National Park Service areas.


Read the complete Superintendent's Compendium
Boarding kennels are available in Rockville, Kanab, Hurricane, St. George, and Cedar City.