Kolob Canyons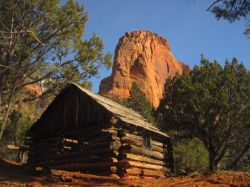 Wilderness
The canyons and backcountry of Kolob are designated as wilderness areas and are protected for their pristine and primitive environments. Visitors looking to escape the traffic and bustle of the busy Zion Canyon are invited to experience the untrammeled canyons of Kolob where man himself is a visitor just passing through. Hiking in the Kolob Canyons allows explorers the opportunity for solitude and tranquility in a scenic desert setting. In order to maintain the wilderness character and natural conditions of the area, please be aware that affiliated groups exceeding twelve in number are only permitted to hike on the Timber Creek Overlook Trail.
The Kolob Canyons truly are a unique area of Zion National Park, with soaring peaks of Navajo sandstone, canyon streams and cascading falls, and over twenty miles worth of hiking trails. New experiences and stunning scenery await you around every bend in a majestic land that has retained its primeval character and influence.
We hope to see you soon.
Welcome to the Wilderness of the Kolob Canyons
Here in the northwest corner of the park, narrow parallel box canyons are cut into the western edge of the Colorado Plateau forming majestic peaks and 2000 foot cliff walls. Whether you come to view the panoramic landscape from our scenic drive, hike into one of our majestic canyons, or begin a multi-day adventure into the Zion Wilderness, the Kolob Canyons has something special for everyone to experience.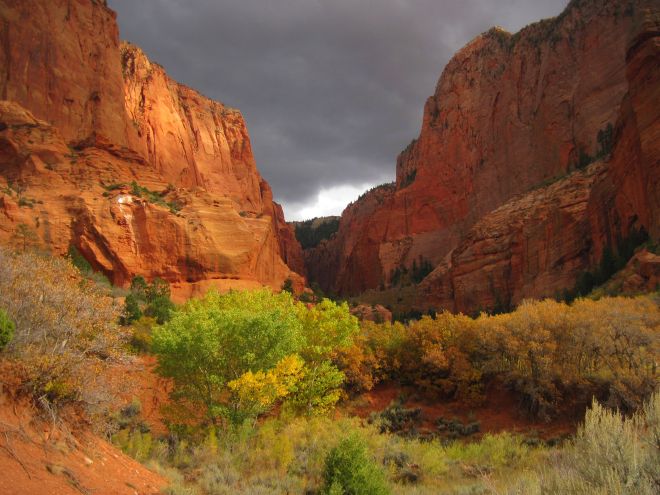 Visitor Center and Scenic Drive
The Kolob Canyons Visitor Center is located at Exit 40 on Interstate 15, 40 miles north of Zion Canyon and 17 miles south of Cedar City. A ten mile roundtrip journey along the Kolob Canyons Scenic Drive allows visitors to view the crimson canyons and gain access to the various trailheads and scenic viewpoints. All guests are required to stop at the visitor center to show an Interagency Park Pass or pay the Zion National Park entrance fee. The Kolob Canyons Visitor Center also has a Zion Wilderness Desk where backcountry travelers may obtain permits for all backpacking campsites, canyoneering routes, narrow canyons, and wilderness areas within the park. Inside the visitor center a bookstore is operated by the Zion Natural History Association.
Did You Know?
During the summer or fall, you may see a tarantula crossing a road or trail in Zion National Park. But don't be frightened-- tarantulas are actually amazing arachnids--gentle, basically harmless creatures that have suffered a bum rap. More...