The trail starts at East Entrance Trailhead and climbs up 1,000 feet onto the rim with views into Jolley Gulch and the east side slickrock areas. The first stretch of trail offers sweeping views of the slickrock areas on the east side before walking through the high ponderosa forest. After you traverse the rim, the views of the Echo Canyon basin open up as you near the East Rim. After hiking over the rim of the canyon you sharply descend 2,300 feet down to the floor of Zion Canyon ending at Weeping Rock, passing through Echo Canyon and down the Observation Point Trail. This trail is best in the late spring and fall. The trail typically has deep snow in the winter that can remain until late spring. During the summer months the trail can get very dry and hot. This area has no established campsites but does require a permit and is available on a walk-up basis.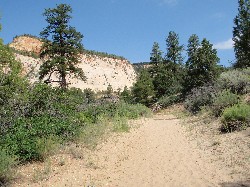 East Side

As you take off from the East Rim Trailhead the trail points directly toward the beautiful sandstone cliffs this area is famous for. The trail climbs up onto the Plateau for the first three miles.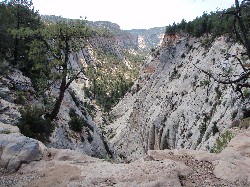 Jolley Gulch

This unmistakable canyon seems to drop out beneath your feet as you see it from the trail. This is a couple of miles in from the East Rim Trailhead and marks a great turn around point for a couple hour day hike from the East Entrance and back.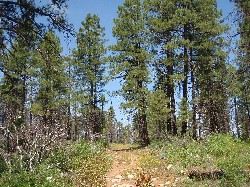 Ponderosa Forest

The middle section of the trail wanders across the plateau where the altitude is higher and the weather is a little cooler than the main canyon. The trail passes through a ponderosa pine forest.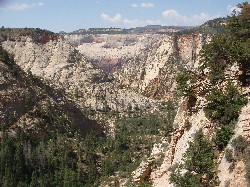 Echo Canyon
After crossing the flat plateau where the ponderosa trees grow, the trail will open up with amazing views of the Echo Canyon Basin.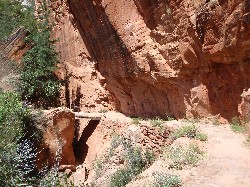 Observation Point Trail
As you drop down in elevation, you will connect up with the Observation Point Trail that works it's way through the narrow section of Echo Canyon. This section has great view of a tight slot canyon.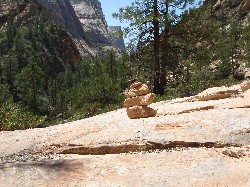 Rock Cairn
The trail that passes through Echo Canyon crosses open slickrock at times where the trail is hard to follow so it is marked by stacks of rocks called "cairns".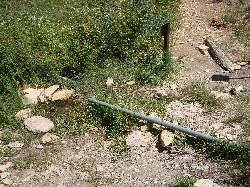 Stave Springs
Stave Springs is located about five miles from the East Entrance Trailhead or Weeping Rock. It is a pipe in the ground that water comes out of. It can become dry some years. Be sure and check springs conditions for an update.
Approximate Location
N 37°15'40.2"
W 112°54'17.1"
Elevation 6493 ft