Bicycling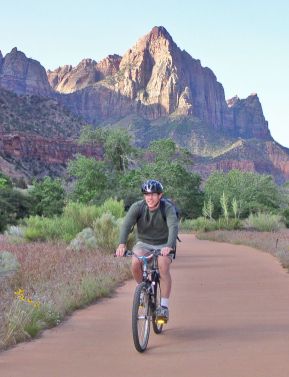 Bicycling in Zion National Park can be fun and challenging. Cyclists need to be aware of their surroundings as the roads in Zion are often very busy with pedestrians, large vehicles, and shuttle buses. Please keep in mind the following rules.

Bicycles may travel on roadways and on the Pa'rus Trail.
Bicycles are not allowed off roadways or in construction areas.
When riding from the South Entrance, use the Pa'rus Trail instead of the main road.
Shuttles cannot pass moving bicycles. Please pull over and let them pass.
Do not pass a moving shuttle bus.
Each shuttle bus has a rack for at least two bicycles.
Due to low visibility and narrow roads be extra careful at the Weeping Rock and Canyon Junction shuttle stops.
Bicycles are not allowed to ride through the Zion-Mount Carmel Tunnel. Cyclists must arrange for their own transportation through the tunnel. Park personnel are not allowed to arrange for, or transport cyclists through the tunnel.
Remember that your safety is your responsibility.
Frequently Asked Questions about Bicycling
Did You Know?

Not finding what you're looking for? The definitive listing of scheduled ranger-led programs can be found in the current edition of the park newspaper, the Zion Map and Guide. More...