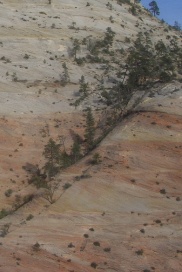 NPS/Pete Sawtell
Ponderosa Pine
High on the sandstone cliffs, ponderosa pines cling to cracks and ledges. These massive trees push powerful roots into the Navajo Sandstone, adding to the slow process of erosion that is constantly changing the face of Zion.
Mixed Conifer and Aspen Forest
On the high plateaus, the ponderosa pines blend into the mixed conifer forest of douglas fir and white pine, as well as nearby aspen communities. On the Kolob Terrace, high elevation plant species grow in soils that are both sedimentary and volcanic. On Zion's east side, they may sprout from no more than a tiny windswept crevice in the slickrock.