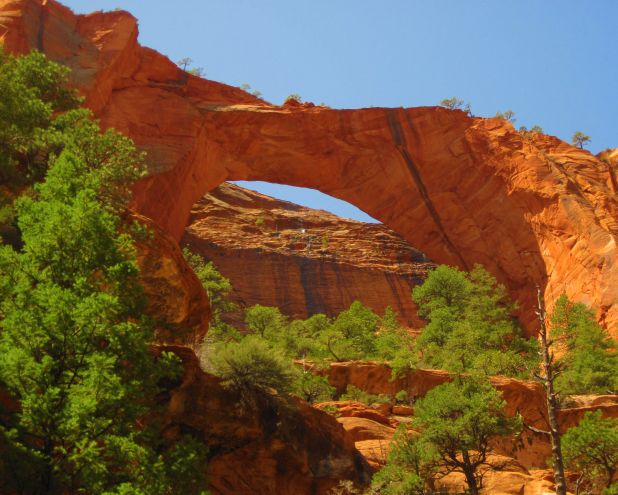 The other famous arch in Zion is not so easily seen. Located deep in the backcountry of Zion National Park's Kolob Canyons District, and hidden in a small side canyon, sits Kolob Arch, perched high on the canyon wall with a majestic curve like a giant condor's wing. Because of its remote location and virtual inaccessibility, Kolob Arch for years has challenged cowboys, rangers, hikers, climbers, and photographers alike. For most of the twentieth century many believed that Kolob was in fact the world's largest freestanding arch, leading to years of debate and the motivation for various parties of adventurous thrill seekers to climb on and around the massive span in hopes of securing a defensible measurement.
Despite its isolated location, Kolob Arch has become a favorite backcountry destination for thousands of visitors to Zion. They discover what most arch seekers will tell you: while beauty awaits every seeker at the end of the path, the reward begins unfolding at the trailhead. Along the trail to Kolob Arch lies some of the most beautiful scenery in Zion. Geology becomes art as the La Verkin Creek, with its soothing sounds of life-giving water, sculpts some of the most colorful canyon walls in Southwestern Utah. Awe inspiring views of the Kolob Terrace along the trail give a tired hiker many places to stop and recharge while gazing upon the high plateau country of Zion. Wildlife abounds in these protected canyons and hikers will encounter reptiles, birds, and mammals. Seven miles along the trail, one is rewarded with a sight not seen by most of Zion's two and a half million annual visitors, the impressive expanse of Kolob Arch. Most experts now agree that Kolob Arch is not the world's largest span in terms of measurement by width and size, but visitors concur with the claim that it is certainly one of the most beautiful and massive arches in creation surrounded and protected by the majestic scenery of Zion.
Zion National Park holds countless splendors of geology, plants, and animals, but it is the wondrous arch that never fails to mystify. We draw in a sharp breath, our mouth opens in awe, and our heart leaps up as we gaze at these impossible, wondrous spans of rock taking flight.