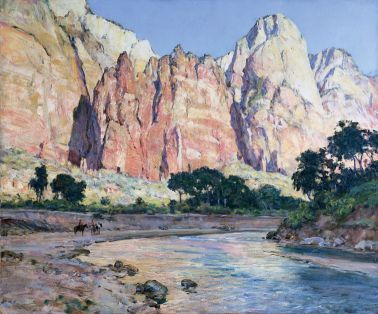 After the park was established, art pulled visitors to the canyon so that they might see its beauty first-hand. In 1926, the Union Pacific Railroad commissioned artist Howard Russell Butler to complete a series of landscapes to promote the scenic marvels of the Colorado Plateau. Butler's wall-size paintings of Zion engulf the viewer and showcase the immense sandstone cliffs and narrow canyon walls. These paintings traveled the country and are now a part of the museum collection at Zion National Park. The Butler paintings represent the early period of the National Park Service promoting visitation of these new areas and developing better transportation to these parks in Utah.
Today, Zion National Park is encouraging artists to create masterpieces. Zion National Park and the Zion Natural History Association recruit artists from the local community to produce, exhibit, and sell their art in the Zion Human History Museum. A variety of artists using a variety of mediums will rotate their work through the space throughout the season.
Artist-in-Residence Program
The Zion National Park Artist-in-Residence Program offers professional artists the opportunity to live and work in beautiful Zion Canyon. The works completed during this program contribute to the public understanding and appreciation of Zion National Park and reflect the National Park Service's commitment to the preservation of cultural and natural resources. Learn more about Zion's Artist-in-Residence program.
Zion National Park Plein Air Art Invitation
Celebrating the iconic artist Thomas Moran's place in the history of Zion Canyon, the Zion National Park Foundation will host the seventh annual Zion National Park Plein Air Art Invitational from November 2 to 8, 2015. The event will bring together 24 of the country's finest landscape artists to paint in the places Moran sketched in Zion Canyon. The artists will paint en plein air (in the open air) throughout the week at the same vantage points where Moran first made his Zion sketches. Park visitors that week will have many unique opportunities to witness these great artists at work in the park through daily demonstrations, lectures and activities. For more information, visit www.zionpark.org.