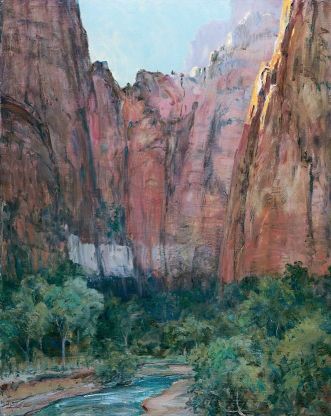 The impressionist Howard Russell Butler is known for his landscapes of the night sky. In 1926, the Union Pacific Railroad commissioned him to paint a series of landscapes for promotion of the Colorado Plateau's scenic marvels as a part of the UP's "Grand Circle Tour". He completed seven large paintings of Zion National Park. These paintings were used in a traveling exhibit by the UP to promote tourism in the region. They represent the early history of the establishment of Zion National Park as well as early tourism promotion in Utah. The paintings were also on exhibit at the American Museum of Natural History. By 1929 they reached the Museum of Science in Buffalo, NY for display. Eventually, the canvases were relocated to storage. In 1998/99, their registrar discovered the paintings and donated them to Zion National Park. The paintings are nationally significant as they represent the early period of National Park Service development of visitor recreation and transportation.
Thanks to a grant received from the State of Utah's Office of Museum Services, conservators have stabilized and framed these historic paintings allowing them to be exhibited safely. The paintings are on exhibit at the St. George Art Museum from August 2008-January 2009 and will be exhibited at the Braithwaite Gallery at Southern Utah University in Cedar City, Utah in May 2009.
Scribner's Magazine, 1904

10 Photos

Frederick S. Dellenbaugh spent the summer of 1903 painting Zion Canyon. These paintings were exhibited in the 1904 St. Louis World's Fair where spectators could not believe such a place was real. Read Dellenbaugh's article in the 1904 Scribner's Magazine. Please note: To view images better, click on image, then use tools that allow you to read pages.