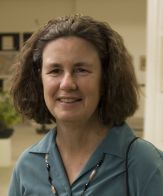 Rebecca Fogg
Residency Dates: October 15 - November 12, 2013
Artist website: www.westcoastfogg.com

Artist Bio: Rebecca Fogg was born in Washington, D.C. and has lived in the San Francisco Bay area since 1978. She studied at Rhode Island School of Design and Rochester Institute of Technology, and has been professionally involved with fine and graphic arts since 1972.
Rebecca has explored and combined diverse two dimensional media throughout her career. These include etching, painting, photography, and computer graphics. Much of her work is inspired by the flowing forms of water, and she works with nature's patterns to create artwork with a recognizable yet fluidly abstract sensitivity. Her images often fuse highly representational and extremely atmospheric passages, evoking both the ethereal and tangible qualities of our world.
Rebecca has exhibited throughout the United States, as well as in Japan and Venezuela. Her work has been purchased or commissioned by numerous corporations and private individuals, and she has received grants from the city of Burlington, VT and the Center for Cultural Innovation (CCI). Her artistic affiliations have included Kala Institute (Berkeley, CA), the San Francisco Museum of Modern Art Artists Gallery (San Francisco, CA), and the Pacific Art League (Palo Alto, CA).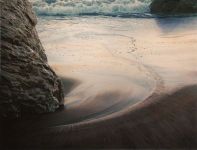 Artist Statement: Have you ever been hypnotized by the pulsing interplay of water and light? This is my creative visual and psychic mother lode. I paint water's luminous flowing forms, and the patterns created directly and indirectly by water. I combine painted, drawn, and photographic elements to create multi-leveled surfaces rich with depth and texture. I like to think of my process as visually dancing, or riding an edge between control and spontaneity.

My images are designed to work both realistically and abstractly. I want to tease your kinesthetic sense; to create an image so compelling that you'll suspend your disbelief and deeply enter into the experience that the painting represents. Let your eyes and mind wander this imagined landscape. Feel the moving pulse of the water and the solidity of the rock. Follow their passage from detail to atmosphere as you move into a deeper space. Return both calmed and energized.