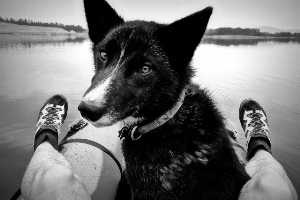 Photo by Josh Spice
Visitors should always remain diligent and cautious with animals in the wild. The Code of Federal Regulations: Section 2.15(a)(2) states unlawful domesticated animal use of Yukon-Charley Rivers is 'failing to crate, cage, restrain on a leash which shall not exceed six feet in length, or otherwise physically confine a pet at all times.' Section 2.15(a)(3) states 'sled dogs may be left unattended for up to 24 hours when afforded adequate shelter and food and water.' Leaving pets unattended at a public use cabin for any length of time is prohibited.
Always remember that it is not uncommon for pets to attract wild animals. Many visitors employ personal floatation devices for pets when traveling on the Yukon River or side tributaries, as the water is often very cold, silty, and swift. Both communities of Eagle and Circle have strict pet leash policies. Keep pets leashed at all times in these areas as dog teams and kennels are prevalent.

The intent of these requirements is to help ensure pet safety by keeping them from being lost or injured, harassing wildlife, causing predation, endangering visitors, and harming or damaging resources.