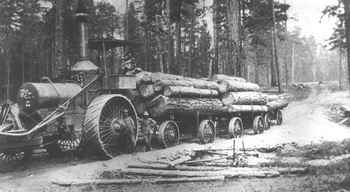 San Leandro Public Library Historical Photographs, #01490.
Arrival of the Tractor
During the Gold Rush the north country became for many a field of dreams, and the coal miners at Washington Creek would not be discouraged. The Alaska Coal and Coke Company's grand plans included using a train to carry coal to the banks of the Yukon and convincing the Valdez & Yukon Railroad to make Washington Creek the terminus of a trans-Alaska railway (neither happened). By 1905 the company had imported the 110-horsepower steam tractor, also called a "traction engine," built by the Best Manufacturing Company in San Leandro, California. Patented in the 1890 by a California grain farmer and inventor named Daniel Best, the steam tractor was originally designed to replace teams of draft horses in the fields, but it soon became popular in the timber and mining industries as a means of transporting heavy loads. At Washington Creek the machine was supposed to pull a string of five cargo sleds, each carrying ten tons of coal, from the coal mine to the bank of the Yukon during the winter. The coal would then be stockpiled until summer when it could be sold to passing steamboats. However, the enterprise was already doomed. In 1906, Alfred H. Brooks, chief of the U.S. Geological Survey in Alaska, explained,
Washington Creek has been the scene of some ill-advised attempts at coal mining. Though there is considerable lignite [sub-bituminous coal] in the basin, much of the money spent in development has been wasted on experiments in transportation rather than in testing the seams as to extent and quality. . . . the outlook for profitable exploitation is not hopeful.
Not only was the quality of the coal insufficient, but the market for coal along the Yukon River was drying up as steamboats converted to oil power and their numbers dropped from one hundred to fewer than twenty-five. It is unknown if the steam tractor ever hauled coal sleds or how well it functioned, but within a year the mine was shut down and the tractor was left to rust.