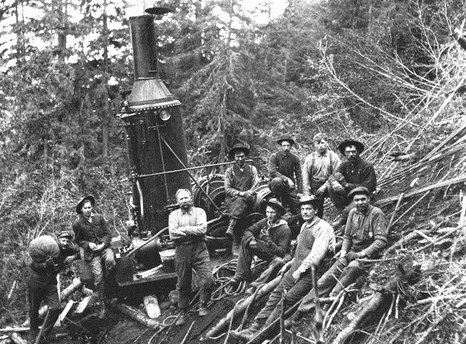 University of Washington Archives
Imported technology
By 1911 Taylor decided to try a more mechanical approach and invested in an 86-horsepower "steam donkey" built by the Sedro-Woolley Iron Works in Washington State. The steam donkey was a kind of traction engine designed to haul heavy weights with steel cables pulled by powerful winches mounted on the front of the machine. Steam donkeys were primarily used in the timber industry in the Pacific Northwest to pull logs out of the forest and onto railroad cars.
Beginning in the 1880s and 1890s, steam donkeys were popular for backcountry work like logging, road-building, and mining because they were mobile and the fuel source (wood) was usually close at hand. A crew of at least three was needed to operate it: the
donkey puncher
worked the clutches, brakes and throttle; the
wood buck
kept the firebox stoked and the steam pressure up; and the third, called a
whistle punk
worked the steam whistle with an elaborate system of signals to communicate with the men at the far end of the cable. As with any steam-powered engine, water needed to be added to the boiler at regular intervals and the risk of explosion was always present. When explosions occurred, the metal skin of the boiler took off like a rocket and the long tubes inside spilled in every direction like the stems of wilted flowers.
Taylor and his men planned to use the cables to pull a large bucket with teeth called a Bagley scraper to excavate gold-rich gravel and move it to his sluice box operation. However, his first challenge was to move the machine from the banks of the Yukon River, where it was delivered by steamboat, to his mine ten miles inland. To accomplish this, Taylor used the machine's unique ability to drag itself by sliding on wooden skids. By digging holes at regular intervals in the frozen ground and burying a large hook to serve as an anchor, Taylor maneuvered the machine, one cable length at a time, through a brushy uphill valley at a rate of half a mile per day.