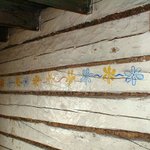 Pat Sanders/NPS
Frank Slaven and the Roadhouses of the Yukon River
While many historic roadhouses have burned or have rotted away, Slaven's Roadhouse has been restored and now serves as a public use cabin and landmark along the river between Eagle and Circle.
From 1990 through 1996, the National Park Service restored Slaven's Roadhouse to its original 1938-42 condition.
Slaven's Roadhouse continues to serve the public as a landmark along the Yukon River. It is open to public access and frequently has people spending the night while traveling up and down the river.
Each February, it serves as a dog drop point during the
Yukon Quest
International Sled Dog Race. At times, the roadhouse also serves as quarters for volunteers working for the National Park Service.