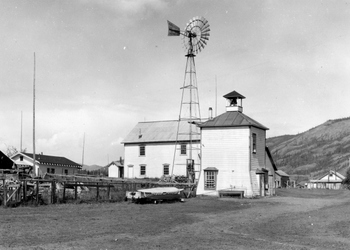 USGS, John B. Mertie Collection
Law and Order Eagle City was saved from becoming a ghost town by the fort and the arrival in 1900 of Judge James Wickersham who chose Eagle as the headquarters for the newly formed Third Judicial District. Today Wickersham's two-story courthouse remains one of the most prominent buildings in Eagle historic downtown. The U.S. Army meanwhile began work on a trail from Valdez to Eagle in order to create an all-American route to the Yukon gold fields. Along this same route, they built a telegraph system linking Alaska's interior to the contiguous United States. Within a few years, however, the judicial seat shifted to the new boomtown of Fairbanks and the soldiers were gone. All that remained was a small Signal Corps detachment to operate a wireless station.
In the decades since Eagle's heyday as a gold rush hub, the town has become home to a small group of people who enjoy life away from the metropolis. Visitors to Eagle can learn more from the community's museum exhibits and historic buildings (including the remaining Ft. Egbert buildings) which are listed on the National Register of Historic Places. Visitors can also learn local and regional history from the field headquarters of Yukon-Charley Rivers National Preserve located on the former military reserve grounds.