Yosemite Valley Trailhead Parking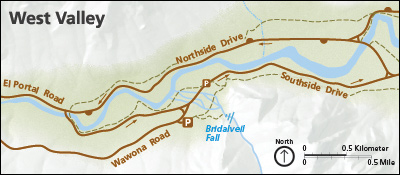 Overnight parking is available at Curry Village and at Trailhead Parking southeast of Curry Village. Sleeping in vehicles is not permitted. Food lockers are available at both locations. If there is any chance you will return after dark, you should store your food in these lockers.
Did You Know?
Built to connect human developments on both sides of the South Fork Merced River, the Wawona Covered Bridge is one of few covered bridges in the region. Built in 1868 by Yosemite's first guardian, Galen Clark, the Wawona Covered Bridge boasts state significance within transportation, entertainment, and recreation contexts.