Yosemite Valley Trailhead Parking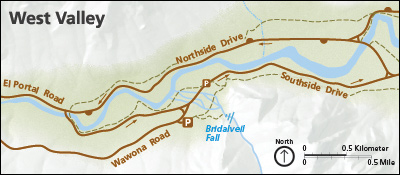 Overnight parking is available at Curry Village and at Trailhead Parking southeast of Curry Village. Sleeping in vehicles is not permitted. Food lockers are available at both locations. If there is any chance you will return after dark, you should store your food in these lockers.
Did You Know?
At the east end of El Portal, just west of Yosemite National Park's boundary, changing river gradients, glacial history, and powerful floods have created a boulder bar with boulders much larger than typically found in such deposits. This is no ordinary boulder bar, however, for it contains massive boulders over a meter in diameter and weighing many tons.