Tioga Road (Hwy 120 through the park) and Glacier Point Roads are closed

The Tioga Road (Highway 120 through the park from Crane Flat to Tioga Pass) and Glacier Point Road are closed due to snow. More »
Rim Fire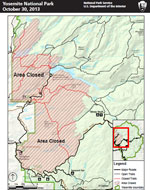 The Rim Fire is 100% contained and not affecting Yosemite National Park, except for the following safety-related closures:


The Hetch Hetchy Road is open, but delays and full closures are possible due to utility repairs.

Trail closures: See map [2 MB PDF]. While the Big Oak Flat Road is open, the area west and east of the road greater than 50 feet from the road's centerline is closed from the park boundary to the Merced Grove Trail (the Merced Grove is open). The Tuolumne Grove is closed. While the Hetch Hetchy Road is open, the area greater than 50 feet from the road's center line is closed. The restrooms, backpackers' camp, and picnic area at Hetch Hetchy are open. The trail to Wapama and Rancheria Falls along the northern edge of the Hetch Hetchy Reservoir is open.

Burned Area Emergency Rehabilitation (BAER) plan [12 MB PDF]

The Rim Fire has burned tens of thousands of acres in portions of Yosemite National Park and surrounding areas. You can help restore trails, facilities and wildlife habitat destroyed by fire. Make a gift today to Yosemite Conservancy for the Yosemite Fire Restoration Fund. Donate now.
Did You Know?
Natural fires in Yosemite are often no more than a single burning snag (standing dead tree) or a slow moving, low intensity fire that cleans underbrush from the forest floor. These fires prevent unwanted fires by removing accumulating forest debris that can fuel a larger fire in hot, dry conditions.