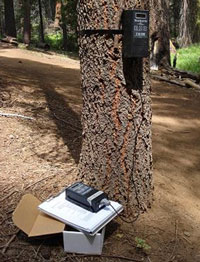 The Visitor Use & Social Sciences branch within the Resources Management and Science division conducts research to inform visitor use management, impact monitoring, and planning-related projects. A focus is put on the social-psychological components of resources management, including the visitor experience. Additionally, existing conditions and physical resource impact and visitor-use documentation are all components of understanding the relationships between visitor use and the quality of biophysical, cultural and social/experiential resource conditions within the park. This includes transportation, front country, and Wilderness visitor-use issues. The national parks, like other federally protected lands, offer a variety of visitor experiences and social resources that can and should be maintained.
According to the 1916 National Park Service Organic Act, quality visitor experiences should be fostered while providing for natural and cultural resource conservation. Solitude is a great example of a social resource that numerous visitors seek when they venture into Yosemite's designated Wilderness. With excessive visitor use, a valued resource, such as a sense of solitude, can diminish or even disappear.
Here are ways to understand visitor-use patterns in parks:
Documenting and modeling pedestrians;
Modeling transportation modes and systems;
Understanding visitor demographics, trip and visit characteristics;
Evaluating visitor services and facilities, expenditures, and opinions about selected issues via surveys; quantifying resource impacts under a variety of use levels;
Understanding visitor perceptions of crowding, wait times and various levels of service.