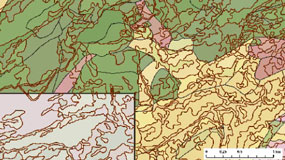 How Was the Vegetation
Map Created?
Creation of the vegetation map was a complex process, with many phases, through GIS. The vegetation of the project area is incredibly diverse due to changes in elevation, and diverse bedrock, soil types, and moisture regimes within the area: grasslands and chaparral in the west, forests in the mid-elevations, alpine zones in the high elevations, and sagebrush communities in the east. The first phase was to acquire custom aerial photography for the area to be mapped. More than 1,500 photos were taken, and each one had to be individually analyzed. Later phases included delineating polygons (areas) of distinct vegetation types, establishment of ecological plots to relate the aerial photographs to on-the-ground data, development of a classification scheme to assign names to those polygons, and accuracy assessment of the final product. There were 220 types identified over 1.4 million acres as map possibilities, although not all are vegetation types. The vegetation map of Yosemite is a multi-agency project. (See specifics below.)
How Will the Vegetation Map Be Used?
The vegetation map has many applications for resource managers including:
Fire management: Comparing the new vegetation map with the data gathered in the 1930s has shown that in areas where severe fires occurred, forest vegetation has changed to shrubland. Fire management vegetation data translates into a fuels (dead and down woody debris and flammable vegetation) map so that fire crews can model more accurately how a fire will behave in certain areas. This is important for fighting wildfires as well as for managing prescribed burns within the park.
Wildlife management: An understanding of where certain plant communities are occurring allows for a better idea of where different animals are likely to be found. It provides information relating to available habitat and food resources for those animals, which in turn allows wildlife managers to better assess how a species is faring and what the population numbers of those species should be.
Analyzing vegetation: The vegetation map is an important tool for understanding the extent and pattern of old growth forests, predicting rare plant habitat, modeling the spread of invasive species, and modeling how vegetation might change under various climate change scenarios.
Also: Applications for watershed management, archeological site prediction, general park planning, vista management and carbon sequestration data.
Learn More about GIS: GIS is used by Yosemite National Park scientists to document the locations of many different types of features--allowing specialists to create, edit, display, and analyze locations of point-, line-, or polygon-type features.