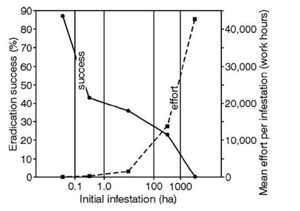 Non-native invasive plant inventories inform resource managers about the presence and absence of target species.
Both are important and provide essential baseline data by which the success of management action or inaction can be assessed. Because it is not practical to inventory each of the 761,266 acres within Yosemite National Park, the inventories focus on areas most likely to be invaded, but include enough other sampling areas to inform managers about where invasive species occur or do not occur. Gathering this information mandates strategic surveying methods and allocation of limited resources to receive the greatest results.
For example, high probability areas include both natural and manmade disturbance sites, particularly those exposed to a ready source of invasive plants propagules.
All survey efforts should be tracked even when no target species are found in order to improve the reliability of the mapping effort, and to improve our understanding of the likelihood of habitats to become invaded. Identifying pathways for invasive species entry and spread can help managers make informed management decisions regarding park prevention systems and early detection efforts. Maintaining an invasive species inventory is an ongoing process. Sophisticated mapping technology allows managers to inventory and document areas of concern and
catalog how infestations respond to treatment over time
. Unfortunately, Yosemite National Park has no dedicated funding for early detection survey work at the present time, hence, survey work as well as treatment work has to be carefully prioritized.
Despite the limited nature of invasive plants surveys in Yosemite, more than 200 species have already been documented. The majority of exotics are relatively harmless as they are restricted to non-natural habitats, such as compacted roadside shoulders. Plants that do not alter the natural community structure or ecosystem function are also more of a nuisance rather than of real management concern. This is fortunate because the park cannot control all non-natives and has to concentrate its limited resources on the most harmful species it can effectively manage. Resource managers use a modified Alien Plants Ranking System (USGS 2000) to assess the degree that invasive species affect natural systems to focus management actions on those that pose the greatest threat to park resources. Resource managers use this analytical tool to separate the innocuous species from the invasive ones and strategically prioritize individual plants as a 'high', 'medium' or 'low' based on the potential threat to park resources, extent of species and ability to mitigate the spread of the invasive species. Park managers can then focus limited resources where they are needed most. Species, such as Himalayan blackberry, are ranked 'high priority' as they form dense, uniform stands that exclude native species or alter natural disturbance regimes. Some highly invasive species (e.g., some Mediterranean grasses) are already so widespread within Yosemite and surrounding areas that their control is not currently feasible, and attempts to control them would be a waste of resources. Those species then are assigned a lower priority.
Prioritization is a dynamic process, and occasionally, ranking of individual species may shift due to changes in plant behavior over time. For example, the exotic species velvet grass was first documented in Yosemite in 1919, but its non-invasive behavior did not warrant focused treatment for many decades. By 2006, managers recognized velvet grass was aggressively spreading from established patches and assigned it a high priority for control. Still other invasive species not yet been found in the park that are problem species in habitats similar to those found in the park are placed on a watch list [113 kb PDF] if their arrival in the park is anticipated. Park botanists and invasive plant staff specifically study such species so that they are readily noticed should they arrive. Effective prioritization results feeds directly into control operations.
Which control operation is implemented by managers can vary greatly from species to species depending on specific plant characteristics. Decisions for follow-up or modified treatments, as well as determining if there is even a need for future treatments can be informed by various types of monitoring.
Invasive plant control efforts are monitored to determine whether management objectives are being met and to ensure the effectiveness of control treatments. Monitoring data provides the necessary detail of post-treatment condition and compares it to pre-treatment data. The quality of monitoring is dependent on the sufficiency of baseline inventory information. The extent of monitoring can vary from year to year depending upon the needs of the program and the availability of funding and staff. Effective monitoring goals are those that are well-defined, easily quantifiable, and time specific. Trend monitoring includes the following:
Efficacy monitoring

of control and prevention efforts helps determine whether or not objectives are being met through current management actions over a designated time.

Non-target effects monitoring

evaluates the potential unintended consequences of management actions on non-target resources.

Ecological restoration monitoring

evaluates the effectiveness of management actions for establishing natural ecosystem composition structure and ecosystem processes over a set time.

Corrective actions monitoring

provides justification for eliminating actions that are not working, or modifying management tools and methods to improve their effectiveness.