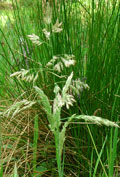 Prevention and early detection of invasive plants are the most important and economically feasible means to control the spread of invasive plants, as noted on our general invasive plants webpage. Yosemite National Park Service work crews, park partners and volunteers have been using techniques such as hand-pulling, lopping, and mowing to manage the park's most invasive species as part of a 2008 Invasive Plant Management Plan. Yosemite, in 2008, began using two herbicides--glyphosate and aminopyralid--as additional tools to manage the most threatening plants that manual methods have not effectively controlled.
Yosemite's removal efforts are focused on the control of nine high-priority species: yellow star-thistle; Himalayan blackberry; spotted knapweed; bull thistle; common velvet grass; cheat grass; French broom; Italian thistle; and perennial pepperweed.
In 2009, Yosemite's invasive-plant biological technicians treated 156 gross-infested acres (27 acres in wilderness) and mapped 231 acres of invasives so far this season. On the whole, invasive plant ecologists recorded 805 acres (285 in wilderness) of non-native plant infestations in Yosemite, but there's more to document. Some species, such as cheat grass, are so widespread that it's a challenge to map. Using GIS, the invasive-plant crew mapped 2,664 points, lines and polygons of invasive-plant infestations and treatments in 2009. Invasive-plant managers then incorporated these features into their planning map containing a total of 6,389 GIS features collected since 1995.