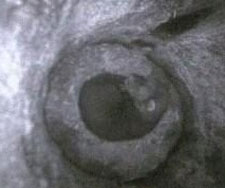 C. Thompson and R. Green
A medium-sized member of the weasel family, the fisher inhabits mid-elevation forests (from 4,000 to 7,000 feet) associated with large mature trees, and eats everything from birds to small mammals to fruit and fungi. It is known as one animal clever enough to prey regularly on porcupine. The loss of the Pacific fisher would affect the natural balance between predators and prey. "Anytime you lose any species from the ecosystem, it is a tragedy," Thompson added. Fishers are threatened by low reproductive capacity, reduced genetic diversity, predation, disease, and habitat loss. In Yosemite, fishers are frequently killed by cars, which, with such a small population size, could be a critical cause of mortality that limits population size and distribution.
Female Pacific fishers can breed as early as 1 year old, but most do not successfully reproduce until age 3. Female fisher, however, do not produce young each year. In fact, reproductive rates fluctuate widely; anywhere from 15% to 75% of mature females will give birth in any given year, with typical litter sizes varying from one to four kits. Following a gestation period of about 40 days, females give birth and raise their kits in dens, usually tree cavities. Some females have one maternal den while others have multiple dens among which they will move their kits. (Dens in the Sierra Nevada have been located in tree cavities in both live and dead trees-in species including black oaks, white fir, incense cedar, ponderosa pine and sugar pine.) Kits are born blind and helpless-completely dependent on their mother's milk for the first eight to 10 weeks. Kits begin to crawl after three weeks, can open their eyes after seven weeks, and can climb after eight weeks. After five to seven months, kits leave the maternal den and their mother to venture beyond the territory of their birth and upbringing.
Other Sierra Nevada-related studies are taking place in an attempt to save this important mammal.
The Sierra Nevada Adaptive Management Project (http://snamp.cnr.berkeley.edu/teams/fisher) --a joint effort by UC-Berkeley with federal and state agencies--examines the management of Sierra Nevada forest lands as it relates to the Pacific fisher.

Through the SNAMP project, Yosemite identified its first Pacific fisher den in spring 2011. Scientists used radio-telemetry to track the movements of a female Pacific fisher from the Sierra National Forest northward into the southern portion of Yosemite. Remote motion-triggered cameras confirmed that this female fisher is denning in the park.


The Kings River Fisher Project in the Sierra National Forest, run by the U.S. Forest Service's Pacific Southwest Research Station, addresses a variety of complementary techniques to study fisher ecology, including the habitat needs of reproductive females. The seven-year Kings River project, which began in 2007, uses several methods-scat detector dogs to look at active habitat use and diet; telemetry to look at habitat use and monitor survival; genetic and disease detection from samples collected during captures; and affixing GPS collars on male fishers.
In the West, Pacific fishers continue to gain scientific attention to facilitate their recovery. Historic trapping prior to 1946 contributed to population declines. Other Western parks study the Pacific fisher, including Olympic National Park where a 2008 reintroduction of the species occurred as part of a State of Washington effort. In the East, fishers have survived better, perhaps, due to their slightly larger size and due to reintroductions, such as a 1994 Pennsylvania project.
Endangered Status: The Pacific fisher is a federal candidate species under the Endangered Species Act, and a California species of concern. View Yosemite's special-status species.