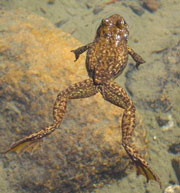 The Sierra Nevada yellow-legged frog was once the most abundant amphibian found in these high-elevation aquatic systems. Visitors would often see hundreds of frogs during walks along mountain lake shores and thousands of tadpoles could also be seen piled on top of each other. These frogs have now declined by over 95 percent. Frogs were a vital link in the food chain—they were predators feeding primarily on insects and they were important prey for native birds, snakes, and mammals when still numerous.
The emergence of insects from the aquatic environment is another vital link in the food chain providing an irreplaceable food source for birds and bats and their young.
Visitors to the High Sierra were once greeted by the jubilant spring trills of Yosemite toads raised among the dense plants of high-elevation wet meadows. Today, the toad's populations have declined more than 50 percent, and the spring chorus is much quieter.