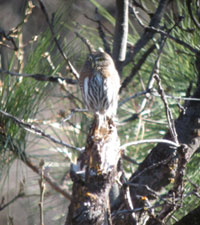 This year on December 14, 2014, 56 participants divided up into 9 groups, with the goal of counting as many species and individual birds as possible. Each group had at least one designated leader, a birding expert, who was responsible for the accuracy of the data. All day, the groups searched their respective areas, covering a 15-mile radius circle, which included El Portal, Foresta, Yosemite Valley, the Old Big Oak Flat Road Trail, and Chinquapin/Yosemite West. Just before dark, everyone convened in Yosemite Valley to warm up, eat good food, share their birding highlights, and tally results. This year, participants tallied 2,354 individual birds comprising 68 species! Since 1991, this is the third highest count for Yosemite's CBC, just behind 70 species (2011) and 69 species (2013).
With so many keen eyes and ears alert for birds, it's not surprising there were some great birding moments and highlights, including a green-tailed towhee and 5 Canada geese along the Big Oak Flat Road Trail, a red crossbill in Foresta, a rock wren in the El Portal area, and a flock of 33 Clark's nutcrackers in the Badger Pass area. The Foresta group made some interesting observations of fire-adapted birds in the Foresta area where two large forest fires occurred this past summer. Omnipresent was the sight and sound of 9 species of woodpeckers (acorn woodpecker, Williamson's sapsucker, red-breasted sapsucker, Nuttall's woodpecker, downy woodpecker, hairy woodpecker, white-headed woodpecker, northern flicker, and pileated woodpecker). These observations contributed to over-all Yosemite CBC record high counts for downy woodpecker (30 detections) and white-headed woodpecker (43 detections). This year, we also accrued the record high count for white-breasted nuthatch (24 detections), which is another species often observed in burned habitats. The three most unusual species were green-tailed towhee (only the 2nd time detected on a Yosemite CBC), and Canada goose and wild turkey (detected on 3 Yosemite CBCs). Somehow the bald eagle escaped our notice on count day, but we've been blessed with its regal presence on days since.
What a great start to the holiday season! See you at next year's Yosemite Christmas Bird Count on Sunday, December 20, 2015.
Some of the historic highlights from Yosemite's Christmas Bird Count include:
A record 1,100 band-tailed pigeons counted in 1971
A record 560 mountain chickadees in 1972
A record 483 golden-crowned kinglets in 1953
Two rare hooded mergansers spotted in 1940
Great gray owls observed during five different annual bird counts