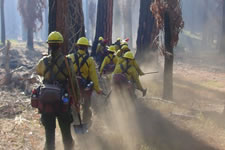 Thunderstorms are common during summer and fall in the Sierra Nevada. Each year, lightning strikes result in wildland fires that help shape the Wilderness around the country. Each year, several of these lightning ignited fires are managed for the benefit of natural and cultural resources. Visitors to Yosemite may see smoke from these fires from various park viewpoints.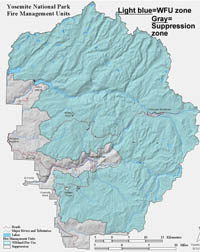 Wildland Fire Use Area
(83% of total park)
This region in Yosemite is dominated by Wilderness. Natural fuel loads exist and past fire suppression efforts have had little impact in the high elevations of this zone. Lightning fires may be permitted to burn in this region, as long as they do not pose risk to people or structures.
Lightning fires are allowed to burn in these particular zones, under specific conditions, and with close monitoring by park fire staff. Factors such as fire behavior, fuel loads, weather conditions, air quality, and potential threats to people and property are
used to determine the ability to manage these fires.