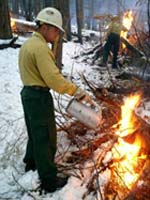 Mechanical Thinning

Mechanical thinning, along with prescribed burning, and wildland fire use fires (WFU) are the three main tools used in the Yosemite Fire Management Program.
Each year, Yosemite does various mechanical treatment projects around park communities to help reduce hazardous fuels near homes and offices. This is done to help create defensible space around structures in the event of an unwanted fire.
This process—known as mechanical thinning—is one tool used by the National Park Service to reduce heavy accumulation of fuels and, ultimately, help prevent larger fires by removing "ladder fuels" that carry fire from the forest floor into the canopy of mature, overstory trees. In turn, this helps preserve natural and cultural resources and provide for public and firefighter safety. These projects also serve to protect park and community structures from larger fires.