Fire Management: 2010 Season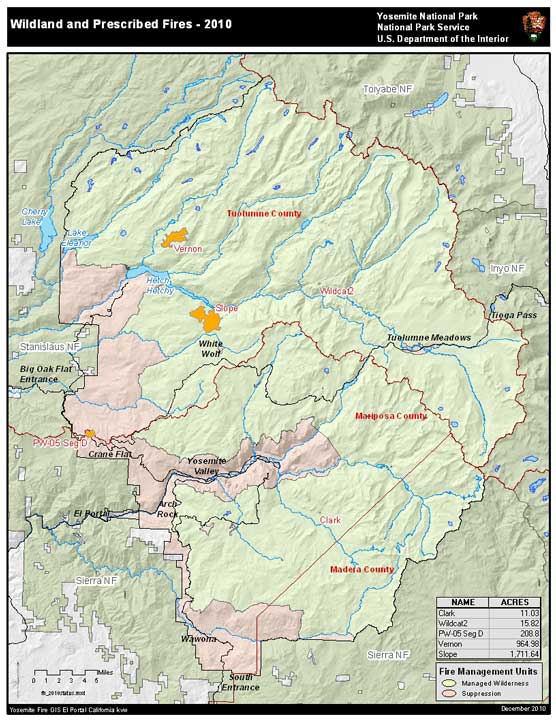 2010 Prescribed Fire: The 200-acre Crane Flat Prescribed Fire (also called PW-05 Segment D) began June 29 and was completed on July 1, 2010, as 70 firefighters brought the drip torches down the fire lines to Highway 120. Firefighters used ground features and natural barriers, such as rock outcroppings, trails, and past fires to establish the project perimeter line, there-by minimizing more impacts to the land by scrapping, cutting and digging additional paths through the area. This operation is often called Minimum Impact Management Tactics (MIMT). The goal of this prescribed burn was to reduce fire fuels near the park boundary, the Rockefeller Grove of sugar pine trees, and structures located in the Crane Flat area. The National Park Service manages wildland fire to protect the public, communities and infrastructure, conserve natural and cultural resources and restore and maintain ecological health.
2010's Wildland Fires:
The Slope and Vernon fires began burning in mid-summer. Both of these fires aided in restoring forest health by the return of fire to the landscape. The fires were managed and monitored with little intervention by firefighters, allowing the fires to move in natural directions and filling key pieces of the fire mosaic.
The Slope Fire, located one mile northwest of Harden Lake, covered 1,711 acres, and the Vernon Fire, located three miles north of the Hetch Hetchy Reservoir, burned 965 acres. Also, the Wildcat 2 fire was the largest of several small lightning-ignited wilderness fires that naturally extinguished. In the case of the 16 acre Wildcat 2, it went out due to its early season start and, additionally, was hemmed in by granite barriers.
October Lightning Ignitions and Fires: The 2010 season will be most known for the weekend of Oct. 1, when Yosemite received more than 1,220 lightning strikes along with about 2 to 4 inches of rain across the park and 3 inches of snow at higher elevations. These storms led to at least 30 confirmed fires starts. Oct. 10 was the first day of clear skies to allow helicopter reconnaissance.
Fire News

: To view Yosemite's activity as part of a national NPS fire picture, go to Fire News and then click on the Slope Fire or the Vernon Fire

Inciweb:

To view InciWeb (Incident Information System) detailing California fires, go to Inciweb and then click on Slope Fire or the Vernon Fire