Yosemite Renaissance Art Exhibit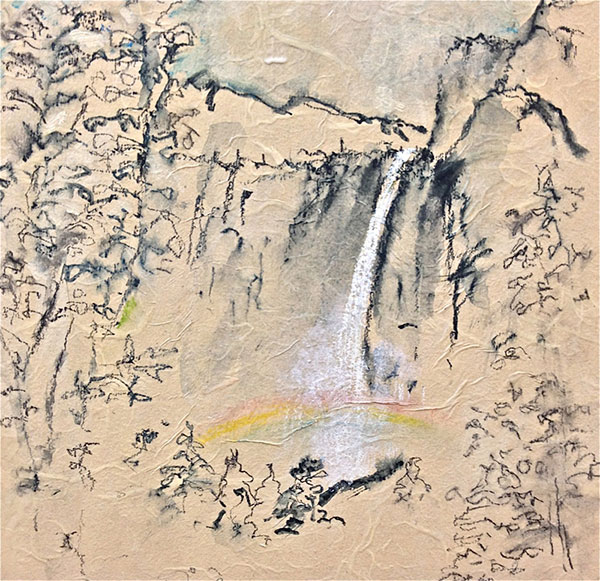 Peggy Huff
Yosemite Renaissance is celebrating its thirtieth year with an exhibit of 49 paintings, photographs, prints and sculptures by forty-seven artists. Drawn from 750 entries, this year's exhibit includes a broad range of works from the representational to the abstract, all interpreting the majesty of Yosemite and the Sierra.
The goals of Yosemite Renaissance are to bring together the works of contemporary artists that do not simply duplicate traditional representations;to establish a continuum with past generations of Yosemite artists;and to help re-establish visual art as a major interpretive medium of the landscape and a stimulus to the protection of the environment. Historically, the arts have played a major role in the establishment of our parks. It is the hope of Yosemite Renaissance that they can be just as important in future efforts to preserve, protect and expand our parks.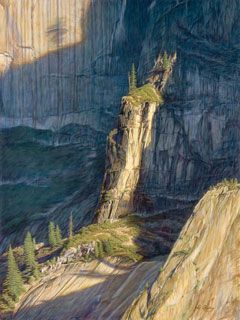 Dennis Curry
Yosemite Renaissance XXX will be on view at the Yosemite Museum Gallery from February 28 until May 10, 2015 (10 to Noon and 1 to 4 PM). The public is invited to the opening reception on Friday, February 27th from 5:30 to 7:30 PM. Hope B. Werness, retired Professor of Art at California State University, Stanislaus and exhibiting artist (in past Yosemite Renaissance exhibits), and Kate Jordahl, photographer; Professor of Photography at Foothill College; Director/Founder of PhotoCentral and exhibiting artist (in past Yosemite Renaissance exhibits) will be this year's judges, awarding $4,000 in prizes to selected artists. The award-winners will be announced at the opening reception on Friday, February 27th. The exhibit will travel to the Kings Art Center (Hanford), June-July, and the Carnegie Arts Center (Turlock), August-September.
The artists included in Yosemite Renaissance XXX are: Kathy Adams/Joanne Baeth/Louise Page, Trowzers Akimbo, Gary Billingsley, Gerald G. Bosworth, Lorraine Bubar, Jenni Buczko, Ginny Burdick, Corinne Carbone, Chi-Han Cheng, Dennis Curry, Ratindra Das, Marianne Elliott, Sandy Follett, Franka Gabler, Charlotte Gibb, Jeff Grandy, Vicki Gunter, Carolyn Hartling, Phil Hawkins, Tony Hertz, David Hoffman, Peggy Huff, Tom Killion, Bruce Klein, Kerik Kouklis, Kristal Leonard, Kenneth McBride, G Dan Mitchell, Michael Mudd, Glenn Nelson, Lorraine Nelson, Yvonne Newhouse, Ted Orland, Penny Otwell, Elizabeth Paganelli, Pokey Park, Ann Piersall, Nancy Robbins, Susan Scott, George Smith, Mary Sweet, Mike Tauber, Kelly Viss, Melissa Woodburn and Floy Zittin.
Yosemite Renaissance is a non-profit organization for the arts of Yosemite, supported, in part, by funds and services from the Mariposa County Board of Supervisors, Delaware North Companies Parks & Resorts and the National Park Service.