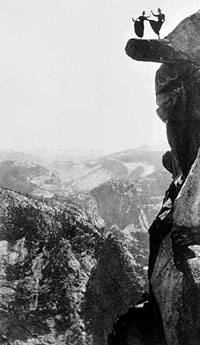 George Fiske
Oral history passed down by local American Indians says the people of the Yosemite area were created here and have been here since the beginning of time. Seven present-day tribes descend from the people who first called this area home. As Europeans arrived in the mid-1800s, violent disruption ensued that displaced the native populations. Early white settlers arrived and hosted writers, artists, and photographers who spread the fame of "the Incomparable Valley" throughout the world. Park pioneers, like Galen Clark, then spoke of Yosemite's need for protection, and that environmental philosophy was advocated by the scientists of the time and later enforced by the park's first nature guides. Early on, women helped make Yosemite what it has become--as influential concessioners, adventurers, and NPS employees who went beyond the time's traditional roles.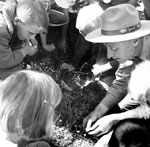 Doug Hubbard
Junior Ranger
history reaches back to the Yosemite Junior Nature School, organized in June 1930 and lasting until 1954. Imagine being an eager young naturalist sent off to the park for a week's summer session. Read a
1937 Yosemite Nature Notes article
about the historic school and a
1960 Yosemite Nature Notes article
that shares the program's success and structural evolution in 1955. Read about the children's experience in their words in this
1938 Yosemite Junior Nature Notes magazine
. [1 MB PDF]. Also, could you pass the Junior Ranger school's
1933 test
? [20 kb PDF] Warning: It's tough.