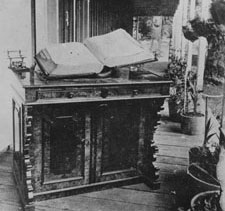 RL2739 Yosemite Research Library
In 1875, J.C. Dotry of New York City wrote: "Very, very, very fine scenery but very, very hard to get to" of his journey across the country. The weary traveler's comment appeared in a thick book called the Grand Register of Yo-Semite Valley that sat on the porch of the Cosmopolitan Bathhouse and Saloon. The Cosmopolitan's register was kept out where all visitors could sign and browse through other tourist entries. Take, for example, what Mrs. E.S. Carr of Oakland, Calif., scribed in 1873: "People should be sure to try Smith baths and mint juleps if they wish to have it said they have seen the Valley."
The Cosmopolitan definitely became part of the experience of Yosemite's visitors in the late 1800s. Its story was a central element in the Yosemite Museum's "Views & Visitors: The Yosemite Experience in the 19th Century" exhibit, which hung in the Yosemite Museum Gallery in 2010.
The Cosmopolitan's register, weighing more than 70 pounds, contains more than 10,000 signatures on 800 pages. U.S. presidents Ulysses S. Grant, Rutherford B. Hayes, and James Garfield signed in, as did many other distinguished visitors. Thousands flocked to Yosemite, which had become a well-known scenic wonder of the western United States in the late 1800s.