Archeology in Yosemite Valley
Yosemite Valley was called "awahni" by the Southern Miwok. While this word has been the subject of many fanciful translations, Southern Miwok speakers contend it means "place like a gaping mouth," likening the shape of Yosemite Valley to that of a huge mouth.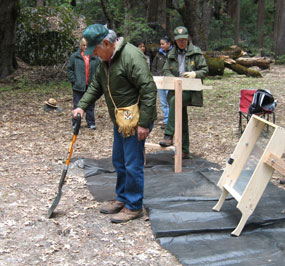 Archeology has been conducted in Yosemite Valley at the site of the former American Indian Village (1931-1969) located west of Camp 4 in order to decipher part of the story of the past. Prior to the 1930s, native people lived in tents and make-shift structures. Yosemite National Park constructed the village in the early 1930s to provide about 50 American Indian descendants a housing option (with the last of 15 three-room cabins razed in 1969).
Yosemite National Park archeologists have examined found objects to help understand the history of the place. Physical remains of American Indian culture in Yosemite Valley date back some 6,000 years. Non-Indian use of the Valley provides a historic record spanning approximately150 years. More than 100 archeological sites are located in Yosemite Valley. Archeologists pose questions in an attempt to understand what kinds of activities people engaged in at the site. Most artifacts of prehistoric age are found below the surface, covered by soil that has been washed down from the talus slope.
In 1997, the park and the American Indian Council of Mariposa County Inc. (AICMC) entered an agreement for conducting traditional activities and partnering with the park to establish an Indian Cultural Center that would be located at the former American Indian Village. This put in place a commitment the National Park Service had made to Indian people in the 1980 Yosemite General Management Plan. The Indian Cultural Center will be used for maintaining cultural practices for all park-associated Indian tribes and as an education center for both American Indians and the public.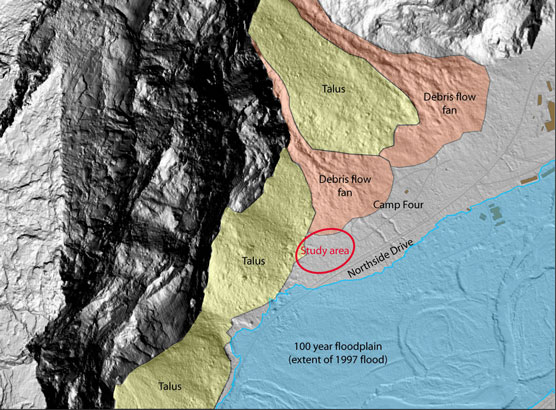 What Artifacts Have Archeologists Found?
Because perishable items do not preserve well in the ground, prehistoric research focuses mainly on durable materials like stone. Specifically, research efforts examine stone tools made of obsidian, a volcanic glass originating east of the Sierra Nevada. Obsidian was traded or transported in larger pieces, reduced using a hammer stone, and chipped with a prong of deer antler into projectile points, drills, and various cutting and scraping tools. Other stone tools identified at the site include stationary rock mortars and pestles needed to process acorn into fine flour. The site contains 10 boulders with 80 mortar cups and is one of the few places in California where this tradition was continually practiced and passed down to the present generation.
What Role Did American Indian Groups Play in This Project?
Oral history and stories told by former residents of the village aid archeologists in choosing the location to excavate for historical artifacts. Interviews also provide accounts of how a certain technological process or cultural practice was performed, and how that practice might leave a physical trace in the ground.
Archeological excavations can be controversial to some individuals and groups. Throughout this project, a representative from the American Indian Council of Mariposa County, Inc. monitored excavations. American Indian groups that are culturally associated with the park continue to be consulted during project development.
How Can You Help Preserve Archeological Resources in Yosemite and Other Places?
Learn about archeological resources. If you happen to visit an archeological excavation in progress, take the time to stop and learn. Visitors are welcome to ask questions, observe artifacts, and view historical photographs. Be aware of your surroundings at any archeological site—maintain a safe distance between you and an excavated pit.
Leave objects where you found them. Archeological resources are irreplaceable. Archeologists learn from artifacts and sites when they are left in place. The interrelationship of objects, or how they are situated on the landscape, is often more important than the objects themselves. Please help to preserve Yosemite's past by leaving objects as you found them.
Note: Archeological resources are protected by federal legislation, including the National Historic Preservation Act. It is illegal to damage, deface or remove archeological objects or features from federal lands.