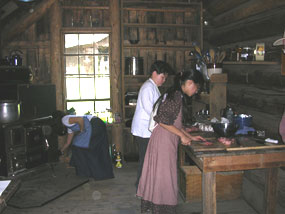 Season: Late-April through early-June.
Requirement: Teachers are required to attend a specific training workshop held the preceding autumn (adult helpers must also attend).
Materials:
You are taking the first steps toward providing a learning experience that your students will never forget. Before you begin, please note that this program requires extensive classroom preparation and comprehensive planning. Students, teachers, and adult helpers need to be well prepared for the experience in order to ensure its success.
Handbooks
There are three different handbooks to help you forge your way to a great Environmental Living program experience. These include the: Program, Curriculum, and Historical Figure Biographies Handbooks – all of which have all been prepared to assist you in planning and conducting the program.
The Program Handbook is the only one available online. You can download it here:
If you are a teacher interested in potentially participating in this program, we invite you to request copies of the additional handbooks that give a substantial amount of additional information about conducting the program. To request copies of the Curriculum Handbook, please contact Dean Shenk (Program Manager) or Sue Michael (Program Coordinator).
The Curriculum Handbook gives more detailed information regarding:

Detailed descriptions of the YELP stations and associated activities
California State Standards coordinated for this program and 4th and 5th grades
Recipes, and
Barn dance calls and music



The Historical Figure Biographies Handbook will contain basic information on the historical figures that are most often portrayed by students participating in the program. This handbook is still under construction – please see current biographies in the Curriculum Handbook.
You can also download the application [100 kb PDF].