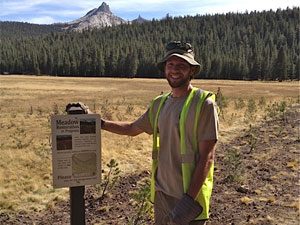 "It's been absolutely wonderful to volunteer here in Yosemite this season. I've had the opportunity to do some amazing things and work with amazing people. I've learned a lot along the way. I've learned that, whether you work here, volunteer here, or are just visiting, you end up getting more from Yosemite than you could ever give back. One thing I've gotten is some great friendships and the chance to work with some outstanding people....For everything that Yosemite has given me, I know that I'll be here for a long time trying to repay it all.
" - Brian Whitehead, NPS Volunteer
Do you care about Yosemite? Would you like to help preserve the wonderfully rich natural and cultural resources protected here? There are many ways to become more involved! Public support is a critical component in the management of National Park Service lands. No other federal agency relies as heavily on the generosity and kindness of its visitors, and we thank you for your past support and look forward to future partnerships.

From volunteering as a campground host, or spending a few hours working in the field to rid the park of invasive plants, to shopping in our bookstores, there are many ways that you can support Yosemite:
Donate: Monetary donations are graciously accepted and directly benefit the park. You can either donate to the Yosemite Conservancy, NatureBridge or directly to the National Park Service. Donations will help support essential projects like habitat restoration, trail repair, wildlife management or youth education.


Volunteer: Yosemite has a large and vibrant volunteer program, welcoming people from all over the world into positions ranging from visitor information assistants in our visitor centers, to studying rare birds of prey, to picking up litter and building trails.


Take part in Yosemite National Park's 125th anniversary celebration: Yosemite and its surrounding communities are hosting dozens of activities and projects to commemorate the 125th anniversary of the establishment of Yosemite National Park.


Shop in our bookstore: You can help Yosemite and learn more about the park by purchasing books and other items online or by purchasing items from bookstores at any of the park's visitor centers.


Outdoor Adventures also provide a great opportunity to learn more about Yosemite.