Road Closures Due to El Portal Fire

The Big Oak Flat Road between Crane Flat and the El Portal Road is temporarily closed. There is no access to Yosemite Valley via the Big Oak Flat Road or Highway 120. Tioga Road is open and accessible via Big Oak Flat and Tioga Pass Entrances. More »
Campground Closures Due to Fire

Crane Flat, Bridalveil Creek, and Yosemite Creek Campgrounds are temporarily closed. More »
Yosemite National Park is Open

Yosemite Valley, Glacier Point, and Wawona/Mariposa Grove areas are open and accessible via Highways 140 and 41. Tioga Road is not accessible via Highways 140 and 41 due to a fire.
Parks as Classrooms
Consider connecting your students to the ultimate classroom. Find resources for planning your own trip and links to ranger programs, fee waivers, and more.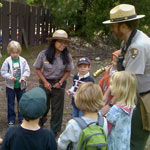 Field Trips
Learn More
Yosemite has a number of park partners that can provide personalized in-park experiences as an alternative or to supplement a Parks as Classrooms program.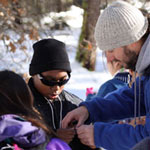 Institutes & Field Schools
Learn More