Road Closures Due to El Portal Fire

The Big Oak Flat Road between Crane Flat and the El Portal Road is temporarily closed. There is no access to Yosemite Valley via the Big Oak Flat Road or Highway 120. Tioga Road is open and accessible via Big Oak Flat and Tioga Pass Entrances. More »
Campground Closures Due to Fire

Crane Flat, Bridalveil Creek, and Yosemite Creek Campgrounds are temporarily closed. More »
Yosemite National Park is Open

Yosemite Valley, Glacier Point, and Wawona/Mariposa Grove areas are open and accessible via Highways 140 and 41. Tioga Road is not accessible via Highways 140 and 41 due to a fire.
Wildlife and Other Sightings: Yellowjackets
Yellowjackets
Family Vespidae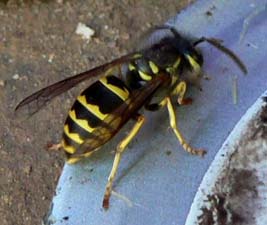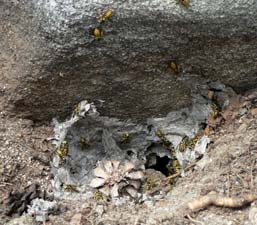 August 2012

Yellowjackets have become very common throughout the Hodgdon Meadow and Crane Flat Campgrounds. These social wasps commonly make their nests underground in rodent burrows. The colony begins as a single queen and grows throughout the spring and summer until the population numbers in the thousands. During this time the developing larvae require a large amount of protein, which is brought in by the workers, usually in the form of other insects. Late in the summer the colonies will slow their growth and begin to forage for sugar, the preferred food for adult wasps. Yellowjackets tend to be very persistent around food sources and aggressively defend their nests if disturbed. The best way to prevent these wasps from becoming a nuisance at your campsite is to keep all of your food and garbage in tightly sealed containers. Try to keep food covered while you are eating or eat within an enclosure. Colonies typically only live for one season and these will begin to die off as soon as the temperature begins to drop.  


Post A Comment
Did You Know?

Yosemite Conservancy's signature project in 2013 is Youth In Yosemite. This project encompasses 12 individual youth programs that focus on education, mentoring, and wilderness exploration. One of the programs funded by Yosemite Conservancy is the Junior Ranger program, a program that benefits over 27,000 children annually. More...