Tioga Road is Closed

The Tioga Road (Highway 120 through the park) is closed due to snow; there is no estimated opening date, although it usually opens sometime in May. More »
Rain and snow is forecast Friday and Saturday

The Glacier Point Road is closed and will be reevaluated on Sunday. Tire chains may be required; bring and be prepared to use them if visiting this weekend. Check current road conditions by calling 209/372-0200 (then dial 1 then 1).
Wildlife and Other Sightings: The End of the Season
The End of the Season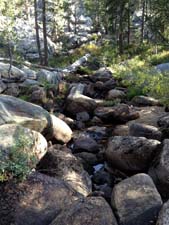 The arrival of gooseberries seems to mark the nearing of the end of season for the high country. At this point in the season the gooseberry and elderberry fruit are mostly gone; presumably eaten by deer and bears after the meadows have dried up and gone to seed. The Middle Fork of the Tuolumne, which earlier in the season rushed through White Wolf, has now dwindled to mere puddles along its path. It seems that the summer season is passing and the dormant stages of winter are on their way. 


Post A Comment
Did You Know?
The Merced River above Nevada Fall and South Fork Merced River above Wawona, numerous small meadows and adjacent riparian habitats occur. Owing their existence to the river and its annual flooding, these habitats help support eight special status animal species: harlequin ducks, black swifts, bald eagles, osprey, willow flycatchers, yellow warbler, western red bat, and Sierra Nevada mountain beaver.