Road Closures Due to El Portal Fire

The Big Oak Flat Road between Crane Flat and the El Portal Road is temporarily closed. There is no access to Yosemite Valley via the Big Oak Flat Road or Highway 120. Tioga Road is open and accessible via Big Oak Flat and Tioga Pass Entrances. More »
Campground Closures Due to Fire

Crane Flat, Bridalveil Creek, and Yosemite Creek Campgrounds are temporarily closed. More »
Yosemite National Park is Open

Yosemite Valley, Glacier Point, and Wawona/Mariposa Grove areas are open and accessible via Highways 140 and 41. Tioga Road is not accessible via Highways 140 and 41 due to a fire.
Wildlife and Other Sightings: The End of the Season
The End of the Season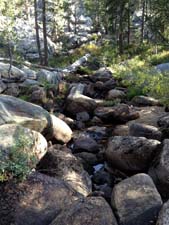 The arrival of gooseberries seems to mark the nearing of the end of season for the high country. At this point in the season the gooseberry and elderberry fruit are mostly gone; presumably eaten by deer and bears after the meadows have dried up and gone to seed. The Middle Fork of the Tuolumne, which earlier in the season rushed through White Wolf, has now dwindled to mere puddles along its path. It seems that the summer season is passing and the dormant stages of winter are on their way. 


Post A Comment
Did You Know?
In March 1987, the largest historical rockfall in Yosemite National Park deposited an estimated 1.5 million tons of debris at the base of Three Brothers, closing Northside Drive for several months.