Road Closures Due to El Portal Fire

The Big Oak Flat Road between Crane Flat and the El Portal Road is temporarily closed. There is no access to Yosemite Valley via the Big Oak Flat Road or Highway 120. Tioga Road is open and accessible via Big Oak Flat and Tioga Pass Entrances. More »
Campground Closures Due to Fire

Crane Flat, Bridalveil Creek, and Yosemite Creek Campgrounds are temporarily closed. More »
Yosemite National Park is Open

Yosemite Valley, Glacier Point, and Wawona/Mariposa Grove areas are open and accessible via Highways 140 and 41. Tioga Road is not accessible via Highways 140 and 41 due to a fire.
Wildlife and Other Sightings: Mule Deer
Mule Deer
July 2012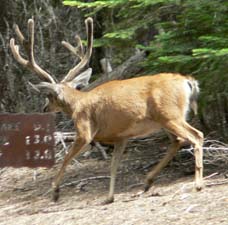 Antlers on Mule Deer (Odocoilus hemionus) bucks are approaching full size but still have the fuzzy velvet skin on their antlers. This "velvet" will be rubbed off by September and the bucks will use them to contend with other males during the early winter mating season.

Post A Comment
Did You Know?

In 90 years of serving Yosemite National Park, the Conservancy has seen many accomplishments. From restoring the habitat of the great gray owl to funding the first museum in the Valley, Yosemite Conservancy has played a vital role in the preservation and protection of Yosemite. More...