Tioga Road is Closed for the Winter

The Tioga Road (Highway 120 through the park) is closed due to snow; it usually reopens in late May or June. You can check on current road conditions by calling 209/372-0200 (press 1 then 1). More »
Wildlife and Other Sightings: Jerusalem Cricket
 Jerusalem Cricket
Stenopelmatus fucus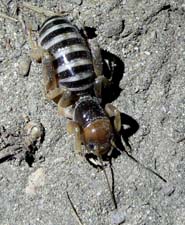 August 2012
Hodgdon Meadow Campground
This unusual insect is the Jerusalem cricket. Taken a few weeks ago at the Hodgdon Meadow campground, this picture shows some of the cricket's distinctive characteristics; a large head and a rounded striped body. These wingless insects spend most of the time underground where they use their large jaws to eat roots and other plant material. Crickets like this can be found throughout the western United States and into Mexico.   


Post A Comment
Did You Know?
When it opened to the public on May 29, 1926, the Yosemite Museum became the first museum building in the national park system, and its educational objectives served as a model for parks nationwide. It still functions much as it was originally intended, and currently exhibits items which mainly reflect the Native occupation of Yosemite Valley and its surroundings. When in the park, you can visit with one of three cultural demonstrators who primarily staff the Museum.