Wildlife and Other Sightings: Jerusalem Cricket
 Jerusalem Cricket
Stenopelmatus fucus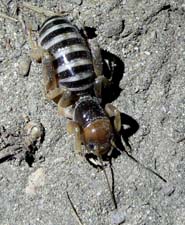 August 2012
Hodgdon Meadow Campground
This unusual insect is the Jerusalem cricket. Taken a few weeks ago at the Hodgdon Meadow campground, this picture shows some of the cricket's distinctive characteristics; a large head and a rounded striped body. These wingless insects spend most of the time underground where they use their large jaws to eat roots and other plant material. Crickets like this can be found throughout the western United States and into Mexico.   


Post A Comment
Did You Know?
Yosemite and Huangshan are sister parks. Huangshan, which protects over 77 magnificent granite peaks 3,000 feet (1,000 m) or higher, is one of China's most famous and sacred scenic areas. Countless poems and writings dating back 2,200 years attest to its beauty. More...