Temporary Closures Due to Fire

All main roads within Yosemite National Park, including the Big Oak Flat Road, are open. Crane Flat, Bridalveil Creek, and Yosemite Creek Campgrounds are temporarily closed. The community of Foresta remains closed. More »
Wildlife and Other Sightings: Jerusalem Cricket
 Jerusalem Cricket
Stenopelmatus fucus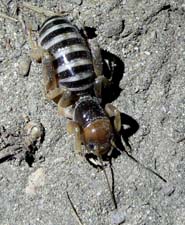 August 2012
Hodgdon Meadow Campground
This unusual insect is the Jerusalem cricket. Taken a few weeks ago at the Hodgdon Meadow campground, this picture shows some of the cricket's distinctive characteristics; a large head and a rounded striped body. These wingless insects spend most of the time underground where they use their large jaws to eat roots and other plant material. Crickets like this can be found throughout the western United States and into Mexico.   


Post A Comment
Did You Know?

Yosemite Falls is fed mostly by snowmelt. Peak flow usually happens in late May, but by August, Yosemite Falls is often dry. It begins flowing again a few months later, after winter snows arrive.